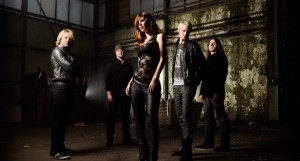 DELAIN ANNOUNCE NEW ALBUM 'WE ARE THE OTHERS' OUT EARLY 2012 THROUGH ROADRUNNER RECORDS
 Dutch symphonic rock outfit, DELAIN have set We Are The Others as the title of their third studio album, due out early 2012 on Roadrunner Records.
The tracks were recorded at various studios in Stockholm, Sweden with producer Jacob Hellner, renowned for his work with Rammstein and Apocalyptica, and the Epicentre team of Fredrik Thomander and Anders Wikstrom (Scorpions, Backyard Babies).
The album's title track, 'We Are The Others' is an anthem for outsiders.  For everybody who maybe chooses to look different, act different, or has chosen a different path in life than is expected by society and 'the norm'.
Fronted by the fiery-tressed Charlotte Wessels, DELAIN is the brainchild of keyboardsman, Martijn Westerholt (brother of Within Temptation's guitarist Robert Westerholt), and the band have generated quite a following for themselves.
Comments
comments