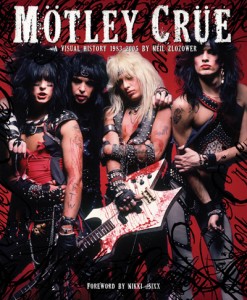 Whilst The Dirt may be regarded as the definitive Mötley Crüe companion piece, aside from their music of course, Mötley Crüe – A Visual History 1983 – 2005 by legendary rock photographer Neil Zlozower is no less essential, portraying in pictures what The Dirt portrayed in words.  Well in saying that, not EVERYTHING from The Dirt is portrayed in pictures, but you get what I mean haha…  Being the first visual history of the band, Zloz, as he is affectionately best known as, was there every step of the way to capture through his lens the Crue's rise from breakthrough album Shout At The Devil and the insane rock n roll excess that followed.
Being a hard cover, glossy, coffee table size book and clocking in at over 230 pages, the quality of the "package" which has been designed by the renowned Tom Jermann is exceptional.  As for the quality of the photographs…well if the name Neil Zlozower is familiar with you, then you are already well acquainted with his work, arguably the best when it comes to capturing 80's hard rock artists.  For those not acquainted, then I can guarantee that you will have sighted at least one of his photo's adorning your favourite CD booklet, magazine or poster.  In nearly 40 years he has worked with the likes of Van Halen, Aerosmith, Judas Priest, Tom Waits, Guns N Roses, Poison, Ratt, Steve Vai and many others and has also released a similarly styled book capturing Van Halen.
More than just a photo book, it also includes fascinating written accounts from Zloz, the band members themselves and the likes of managers Doc McGhee and Doug Thaler, producer Tom Werman, tour security man Fred Saunders and Fleur Thiemeyer-Tramp, the bands clothing designer.  More than just rehashed stories from The Dirt, these accounts, in companion with the pictures offer a whole different, but no less sordid insight into the band.
Whilst the title of the book states a visual history from 1983 through to 2005, the period from the 90's without lead singer Vince Neil and other lineup changes is not captured.   What is captured however are many never seen before pictures from backstage, behind the scenes, in the studio, live shots, on the set of shooting video clips, you name it, it's there.  The infamous "blood session" which Zloz himself ranks as one of his favourite shoots ever (they used five gallons of Hollywood prop blood to cover themselves and 90% of Zloz's studio) is well featured and features an account from Sixx himself.  "I look back on those pictures and think, God bless rock 'n' roll and God bless whoever cleaned up that mess.  I guarantee it wasn't Zloz, cause he went out drinking with us till dawn that night….".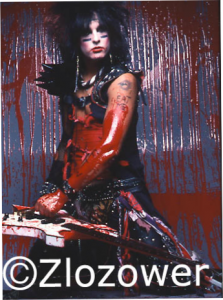 They say a picture speaks a thousand words…and in the case of this book, never has that been any truer.  One of the most legendary rock music photographers capturing one of the most visual rock bands to ever exist, this really is about as essential as it gets when it comes to Mötley Crüe.
If you want to learn more about Neil Zlozower, then check out our classic interview with him right here…
Essential information
Released: 2009
Website: www.zloz.com