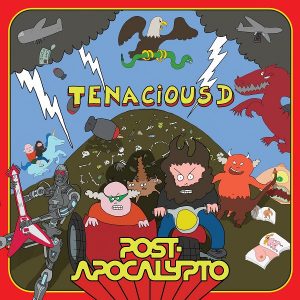 Acclaimed rock duo and basically everyone's favourite band ever Tenacious D — comprised of Jack Black and Kyle Gass — will release not one but TWO incredible works this fall.  Both are called Post-Apocalypto.  Both are amazing.  Here's what you need to know:
Post-Apocalypto – THE SERIES – is an original, six-part animated video series from the minds of Tenacious D.  Each frame of every episode was hand-drawn by Jack himself, with every character voiced by Black and Gass.   The series begins rolling out on September 28th, 2018, via Tenacious D's YouTube page, with a new episode every Friday after that.
All six episodes feature new Tenacious D songs, culminating in a new Tenacious D album — also called POST-APOCALYPTO, set for release on November 2, 2018 on Columbia Records through Sony Music Entertainment Australia.  As each episode goes up, a song from that episode can also be heard via all DSP's.  Produced by John Spiker, and featuring long-time collaborator Dave Grohl on drums, POST-APOCALYPTO – THE ALBUM – is a genius addition to The D's already scintillating catalogue of rock greatness. You can pre order the album NOW.
True to the title, Post-Apocalypto finds Tenacious D thrust into a world of complete and utter destruction following the drop of an atomic bomb.  Surviving the attack in classic cinematic fashion (a good old imperishable 1950's refrigerator), the duo quickly learns that new forms of evil have spawned from the blast.  One thing becomes apparent — for humanity to prevail, Tenacious D must save the world.
With unimaginable twists and turns, an insane visit to the White House, a time machine, a space adventure, and the help of some tried and true daddy issues, Post-Apocalypto is as hilarious as it is political, and as brilliant and multi-faceted as its incredible creators.  The songs are damn good, too.
Some special insight to the series can be seen via the band's newly-launched Instagram account – click HERE to learn more.  
POST-APOCALYPTO (the album) will be available digitally, on CD, and on translucent green vinyl.  There is also a limited edition POST-APOCALYPTO vinyl picture disc that will only be available on the band's online store; click HERE to learn more.
PRE-ORDER POST-APOCALYPTO NOW.
Tenacious D will be playing sold out shows across the USA throughout November & December, as well as CalJam 18 in October alongside Foo Fighters, Australia's own Gang Of Youths and more! – FOR ALL TOUR DATES, HEAD HERE.
Comments
comments