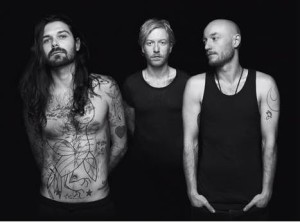 Biffy Clyro follow 2013's critically acclaimed #1 UK double-album Opposites with their seventh studio album Ellipsis which will be released on July 8th on Warner Bros. Records / 14th Floor Recordings. Pre-orders for the album are available now with the first single Wolves of Winter now streaming and available as an instant grat track.
As is tradition, writing sessions for the album saw Biffy Clyro – Simon Neil (vocals/guitar) and the Johnston brothers James (bass) and Ben (drums) working in the intimate environment of their practice room. They then headed to Los Angeles for recording sessions with producer Rich Costey (Muse, My Chemical Romance, Sigur Ros).
Citing influences as diverse as Tears For Fears' Songs From The Big Chair album, DJ Arca and Deafheaven, Simon Neil has described Ellipsis as "more of a punch to the nose than a big cuddle." Lyrically, the album's songs tackle personal issues with the idea of "fighting back" a recurring theme.
Such themes are also apparent in the album's visceral first single Wolves of Winter which captures Biffy Clyro's famous blend of angular riffs, pummeling rhythms and strident hooks. Says Neil: "Wolves of Winter is about us being wolves on a patch and if you come onto that patch, we'll tear you limb-from-limb."
An Ellipsis (most commonly depicted as …) indicates a continuation: in this case, Biffy Clyro's new body of work is an ongoing representation of everything that the band have stood for since first debuting in 2002 with the Blackened Sky album.
Ellipsis will be available digitally and on CD as both standard and deluxe editions. In addition, a variety of vinyl formats will be issued together with a special D2C box set which will be available exclusively from www.biffyclyro.com.
After playing their only show of 2015 shortly before midnight on New Year's Eve at Edinburgh's Hogmanay, Biffy Clyro recently announced that they'll headline this year's Reading (August 28th) and Leeds Festivals (August 26th).
Opposites saw Biffy Clyro flourish with their first #1 UK album and #22 debut on the ARIA chart and a hit single with Black Chandelier. The band's live shows soared to new heights with highlights including debut festival headline sets at Reading, Leeds, Radio 1's Big Weekend, Isle of Wight and T in the Park, Soundwave and extensive touring across six continents, including a headlining tour in Australia.
FOLLOW BIFFY CLYRO
OFFICIAL WEBSITE | FACEBOOK | TWITTER | INSTAGRAM | SOUNDCLOUD | YOUTUBE
Comments
comments