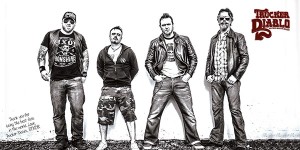 And……the Big Truck is back!
A year ago Trucker Diablo announced an indefinite hiatus, the N. Irish rockers are back with a brand new album, Rise Above The Noise, UK Festival announcements and a brand new record deal with Off your Rocka Recordings!  The first single from the label release will be "Where angels Fly" on the 8th of June, which will also contain newly recorded acoustic songs.
Label Announcement:
Irish Rockers TRUCKER DIABL0 sign Worldwide deal with Off Yer Rocka Recordings
They're back and what an album we have in store for you! When the masters hit our desk, we knew instantly that it was exactly the sound that OYR were looking to sign!
OYR CEO Jonni Davis commented..  We've known Trucker for a long time this is a huge musical thrust north, it's just a great FKN album and sits perfectly into what we're all about..  Can't wait to get this one out there.
Trucker Diablo's Tom Harte added
"When we decided to set up a pledge campaign for our new album, signing with a label was far from the agenda. When OYR got in touch it was like an old friend getting in contact. We have been friends with the guys for quite a few years now and have been lucky enough to be a part of the amazing festivals they host. So for us it's an easy decision to make this next step into the OYR family and we trust our new album will find more ears through the great team they have working with them."
'Big Truck Keeps on Rollin'
Rise above the Noise will be available via all good record stores and platforms late June with a teaser EP out shortly before. Watch this space!!
www.offyerrocka.com
www.facebook.com/TRUCKERDIABLO
The new album features 10 songs mostly written during the down time of the last 12 months and sees the band expand their songwriting, monster up their riffs and pull out those big choruses that made their peers like Ricky Warwick, Cormac Neeson and Ginger Wildheart take notice! The album is available in digital format for pre-order from these links with Murder Ballad available to download from iTunes:
iTunes – http://smarturl.it/TruckerDiablo-iTunes
Amazon – http://smarturl.it/TruckerDiablo-Amazon
Google Play – http://smarturl.it/TruckerDiablo-GP
Catch the band live at 3 big UK Festivals, Pentrich Rock n Blues, Hard Rock Hell and Steelhouse, appearing alongside the likes of UFO, Dee Snider (who famously watched the bands set at Download Festival a few years ago), Y&T and SAXON.
Comments
comments