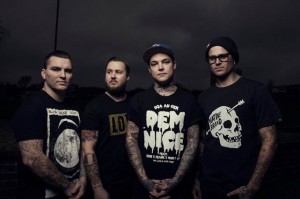 The Amity Affliction has announced they will release their first documentary DVD Seems Like Forever on July 10, 2015.  A film spanning their extraordinary story thus far Seems Like Forever will be available to pre-order via 24hundred.net on Thursday 14 May.
An access all areas look at the band's history, including footage from their early days through to last year's epic Let The Ocean Take MeWorld Tour.  Seems Like Forever not only includes TAA's meteoric rise to become one of Australia's most accomplished bands but also features interviews with the team that have supported them over that time including management, their label Roadrunner Records, booking agents and even some high profile Amity fans (you'll have to watch to find out who!)
Seems Like Forever was filmed in locations from all corners of the globe including Australia, Europe and the U.S.A. The documentary also offers insight into how the band feel about the closeness they share with their fan base, a bond that has been forged from constant touring, genuine interaction via social media as well as the noted openness of Joel Birch's lyrics.
Says Birch of the documentary, "I'm really stoked that we're finally releasing a small insight into the life we've been able to live thanks to everyone who has supported us, through the good times and the bad, it's been a hell of a ride!"
Directed by Tim O'Keefe with cover art by long-time collaborator Pat Fox, an exclusive Seems Like Forever trailer is streaming now at www.theamityaffliction.net.
Australian fans ordering Seems Like Forever pre-release via the 24hundred.net store can also choose from a number of pre-order only, merchandise bundles with one-off exclusive designs. Some strictly limited bundles also include a ticket to see Seems Like Forever before anyone else at pre-release advance cinema screening premiere events in each capital city!
A special deluxe edition of the band's #1 ARIA album, Let the Ocean Take Me will also be available digitally from July 10 and feature previously unreleased tracks Skeletons and Forever.
Adding to the list of achievements the band have already notched up including two consecutive #1 debuts on the ARIA chart (forChasing Ghosts and Let The Ocean Take Me) as well as three gold albums (the aforementioned albums as well as their 2010 releaseYoungbloods), The Amity Affliction are among the "Best International Band" nominees for the second annual Alternative Press Music Awards, and have been named in the "Breakthrough" category for the Metal Hammer Golden Gods Awards 2015.
The Amity Affliction is: Joel Birch – Vocals * Ahren Stringer – Bass, Clean Vocals * Ryan Burt – Drums * Dan Brown – Guitar.
FOLLOW THE AMITY AFFLICTION
OFFICIAL WEBSITE | FACEBOOK | TWITTER | INSTAGRAM | YOUTUBE
Comments
comments