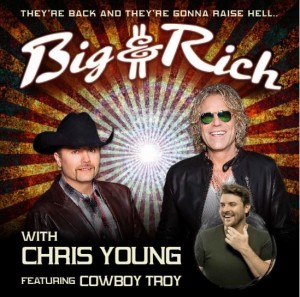 Get ready for a rowdy night in Sydney and Melbourne next March when the wildest duo in country music BIG & RICH (USA) return to Australia for their first ever headline shows. Rob Potts Entertainment Edge and Chugg Entertainment announced the Sydney and Melbourne shows today for the American superstars, who are already confirmed for CMC Rocks QLD festival. Special guest on both shows will be CHRIS YOUNG (USA).
With sales in excess of five million albums, six top 20 singles and a decade of mind-bending, roof-raising, live performances, Big & Rich (Big Kenny Alphin and John Rich) has conquered the world and Australia is no different. The rowdy circus duo has stamped out a totally unique identity with hits such as Save A Horse, Ride A Cowboy, Comin' to Your City, Lost In This Moment and their latest smash Look at You, currently burning up the charts. Fans have been clamoring for their return since their Aussie debut in 2013 and we're thrilled to oblige.
Big & Rich with special guest Chris Young will play 170 Russell in Melbourne on Wednesday 11 March and Enmore Theatre in Sydney on Friday 13 March.
On their first trip to Australia for the CMC Rocks festival in 2013, their spectacular Saturday night headlining set climaxed with the duo pouring whiskey from their on-stage bar onto John Rich's acoustic guitar, setting it on fire and smashing it to pieces before reaching into the crowd to hand it to a lucky fan, all the while audience sang back every word to their signature hit. It was a moment no Aussie fans will forget, and now Big & Rich fans in Sydney and Melbourne will have the chance to rock out with the hitmakers for the first time.
With a jaw-dropping six #1 singles under his belt at only 29, velvet-voiced singer-songwriter CHRIS YOUNG (USA) has become one of today's most consistent hitmakers, with his talent for penning both cheeky and deeply emotional tunes and an unmistakable baritone voice that makes women melt. On his first trip to CMC Rocks in 2013, the fans were blown away by his on-stage energy, with fists pumping in the air through his set. Now he returns with a new album A.M. and further hit singles Aw Naw and Who I Am With You. These will be Young's first performances in Sydney and Melbourne.
TICKETS FOR ALL SHOWS ON SALE THURSDAY 11 DECEMBER, 9AM (local)

SYDNEY
Friday 13 March, Enmore Theatre
Also appearing at
CMC Rocks QLD 2015 www.cmcrocks.com
For more information:
www.bigandrich.com
www.chuggentertainment.com
Comments
comments