SEETHER Reveal New Track, "Suffer It All" Available For Immediate Download With 'Isolate And Medicate' Pre-Order
Lyric Video For "Words As Weapons" Released Today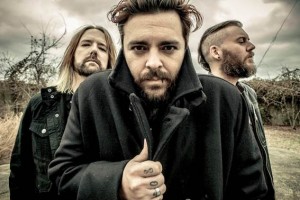 As Seether prepare to unleash their sixth studio album, 'Isolate and Medicate', to the world on June 27th, the platinum-selling alternative rockers have revealed a second track, "Suffer It All" for fans to stream and download today. One of the heaviest songs on the album, the track is now available as an instant download with pre-order of the album from iTunes (iTunes Pre Order Deluxe Version) and (iTunes Pre Order Standard Version) and can be streamed here: New Track "Suffer It All" Today also marks the premiere of the lyric video for their current single,"Words As Weapons" via VEVO with an official video to follow later this week.
With 11 #1 singles and an impressive 17 Top 5 hits across multiple formats, it's no surprise that "Words As Weapons" is already Top 10 and climbing at Active Rock Radio in the US and making a big dent on radio here. The track quickly became a highlight for fans at some of the country's biggest rock festivals last month including Rock on the Range, Carolina Rebellion, Rocklahoma and the band's own Rise Above Fest.
Seether's highly anticipated, sixth studio album 'Isolate And Medicate' will be released on June 27th, 2014 via Caroline Australia.
Seether on the Web: www.seether.com
Tour dates: www.seether.com/tour-dates/
Twitter: twitter.com/seetherofficial
Facebook: www.facebook.com/seether
Comments
comments