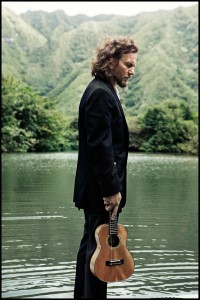 Chugg Entertainment are thrilled to confirm that Pearl Jam's notorious lead singer, Eddie Vedder, will be embarking on a long-awaited solo tour this coming February.  Following Pearl Jam's headline slot on the Big Day Out's national dates, Vedder will return to the stage in solo mode for a string of extraordinarily special theatre shows; live and intimate.
The tour will begin with two dates at Perth's Riverside Theatre on Friday 7th andSaturday 8th February, Sydney's State Theatre on Tuesday 11th February and a performance at the Sydney Opera House on Thursday 13th February, Melbourne's Palais Theatre on Sunday 16th and Tuesday 18th February, and the QPAC Concert Hall in Brisbane on Saturday 22nd and Sunday 23rd February.
Stepping out of his renowned role as the famed front-man of Pearl Jam has been more than well received by his Australian fans following the monumental response to his previous tour in early 2011.  When shows were announced, fans across the country erupted at the news and within hours of tickets going on sale to the public, more than ten theatre shows across the country were completely sold out leaving a plethora of fans empty handed and wanting more.
The staggering shows left fans and reviewers enthralled, with the Sydney Morning Herald citing of his State Theatre show that "he received ample love for his vulnerability"while "an adoring crowd hung off his every note."  While Melbourne's the Herald Sun said of his Palais Theatre performance, "Had you entered Eddie Vedder's gig last night, you could have been forgiven for thinking you had mistakenly wandered into some kind of evangelist rally.  Hands pointed skywards, faces beaming, voices raised as one. But the higher power this crowd was bowing down to was one man, on a stool, surrounded by a few guitars." 
There have only been several occasions over the years where Vedder has stepped into solo mode, including his soundtrack contributions to the films of friend Sean Penn onDead Man Walking  (1995) and I Am Sam (2001).  This collaboration most notably came to fruition in 2007 when Penn engaged Vedder to write and record the full soundtrack for his film adaptation of Into The Wild – John Krakauer's best selling novel of the same name.  The story of Into The Wild is one of alienation and distancing and the self-discovery that can be found only in wandering and escape and solitude; themes ever present in Pearl Jam's music, and likewise in Vedder's solo work.  On having to write songs based on a narrative, he said it "simplified things" and that "There were fewer choices.  The story was there and the scenes were there."
Vedder won a swag of awards and critical acclaim for the soundtrack, including a 2008 Golden Globe Award for the song Guaranteed.  He was also nominated for a Golden Globe for his contributions to the film's original score.  Furthermore in 2008, Guaranteed received a Grammy nomination and in 2009 Rise received a nomination for Best Rock Vocal Performance.
After the release of the Into The Wild soundtrack, Vedder embarked on a multiple solo tours across North America, Europe and Australia – garnering stellar reviews and sell outs across the board, the tour further cemented his claim as a bona fide solo artist in his own right.
Following his last Australian tour, Vedder embarked on another chapter with the release of his second solo studio album, Ukulele Songs.  Yet another critically acclaimed project described by Drowned In Sound as and album "brimming with integrity and enthusiasm and, most importantly, boasting great tunes."  While PopMatters stated that "Ukulele Songs removes the rockstar, the activist, the raging ball of fire.  It's about the husband and the father.  They're songs to be sung in the living room, the bedroom, songs to be sung around a backyard campfire just as the evening is coming to a close.  They're songs for cold breezes and blowing embers."
Bringing to the stage a swathe of songs from his solo records, as well as some Pearl Jam favourites, there can be no doubt that yet again, his Australian audience will stop in their tracks when Eddie Vedder takes the stage.  These enchanting shows are not to be missed.
TICKETS FOR ALL SHOWS GO ON SALE
WEDNESDAY 18th DECEMBER, 10AM
TOUR DATES
PERTH
Friday 7th & Saturday 8th February – Riverside Theatre
Ticketek | 132 849
——
SYDNEY
Tuesday 11th February – State Theatre
Ticketmaster | 136 100
——
SYDNEY
Thursday 13th February – Opera House, Concert Hall
SOH Ticketing | 02 9250 7777
——
MELBOURNE
Sunday 16th & Tuesday 18th February – Palais Theatre
Ticketmaster | 136 100
——
BRISBANE
Saturday 22nd & Sunday 23rd February – QPAC Concert Hall
QPAC Ticketing | 136 246
Comments
comments