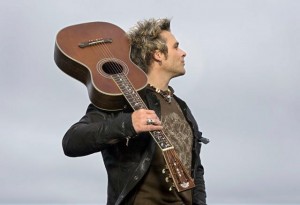 Following hugely successful shows in February 2013, Mike Tramp returns to the stage in Australia for more solo concerts.
A one man show telling the stories behind 30 years of music from his platinum days as lead singer of White Lion through his time in Freak of Nature and as a solo artist, when Mike Tramp takes the stage, you are welcomed into his world for one of the most personal live experiences imaginable.
Tramp has just completed touring the US and Europe following the release of his latest album, Cobblestone Streets and is now bringing his story teller-styled show to Melbourne at Revolver Upstairs and in Sydney at The Vanguard.
With the shows clocking in at around 2 and a half hours, Mike will take his fans on a musical journey on his Endless Highway Tour.
From The Road to Valhalla & Lady of the Valley to Rescue Me & What Am I, and finally to Mr. Death, All of my Life & When She Cries.  The stories behind the songs, the era, the world of the 80s, 90s and now through Mikes eyes will be laid bare and performed in their rawest form – just as Mike wrote them originally on acoustic guitar.  This show is Mike's most personal performance ever, joyous for the singer and insightful for his fans.
Mike has today released a brand new song for Christmas, The Way It Was Before – which is rather more serious than many other festive songs. it can be steamed HERE and purchased on iTunes:
Tramp explains:
"The Way It Was Before is actually a song that I have kept for many years. The song would never have been written if it hadn't been for the events in New York City on September 11th 2001, although it doesn't mention what happened that day.
"I experienced the tragedy from my home in Tasmania at the time and remember the emptiness and feeling of helplessness that I got. New York City had meant everything to me. It was where I went to live out my dream and where my American history began.
"New York City was the place that I had called my home for many, many years. I even won a New York City Music Award as best rock singer. September 11th changed everything. Suddenly we all had to give up part of our freedom and learn to live with the chaos and the restrictions that came with it. At Christmas time that year I sat with my guitar, and it was there that the song came to me. A longing to return to the way that things used to be."
Tickets On Sale and Performance Dates:
Sydney – The Vanguard 14 March, 2014
http://www.thevanguard.com.au
Melbourne – Toff In Town 15 March, 2014 
Official Website : www.miketramp.dk
Facebook : https://www.facebook.com/pages/Mike-Tramp-Official/130186350354989  
Comments
comments