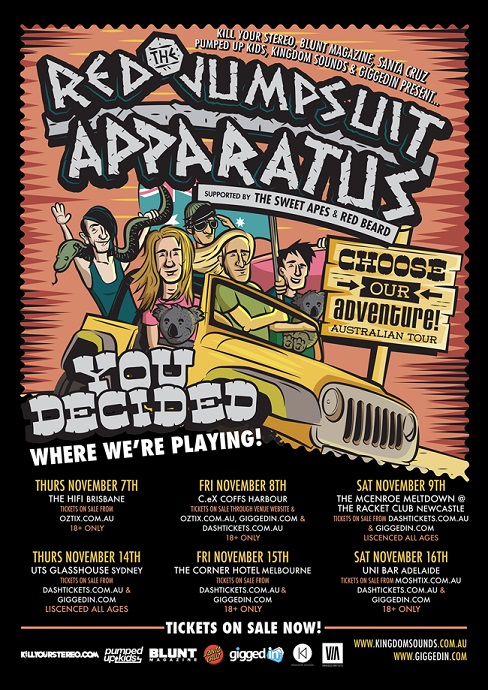 Kingdom Sounds, Pumped Up Kids, Various Artists, GiggedIn, Kill Your Stereo, Blunt Magazine and Santa Cruz presents
THE RED JUMPSUIT APPARATUS  (USA) – CHOOSE OUR ADVENTURE AUSTRALIAN TOUR 2013
It was only a month ago that The Red Jumpsuit Apparatus (TRJA) put everything on the line with an unheard of touring concept, enabling fans to pledge their support through crowd funding and ticketing platform Giggedin. Aiming to reach fans that may have missed their last Australian appearance at Soundwave 2009, TRJA have reaped in the numbers, with Brisbane, Coffs Harbour, Newcastle, Sydney, Melbourne and Adelaide taking out the winning shows.
The punk rock/post hardcore four-piece will be bringing old favourites such as 'Face Down' and 'Your Guardian Angel' down under, but not without a set of exciting new material. Earlier this year in celebration of their 10th anniversary the band released new EP 'Et Tu, Brute?' with producer David Bendeth (Don't You Fake It).
After learning music together during their younger years, it's only fitting that the Winter brothers Ronnie and Randy have ended up playing together again, with 'Et Tu, Brute' being Randy's first opportunity to show TRJA fans his true musical identity. The band have received great success world wide with many of their songs topping the charts along with features in video games (Saints Row 2), and films (Never Back Down).
Throughout their career TRJA have played shows with countless heavy weight artists such as, Rise Against, My Chemical Romance, 30 Seconds to Mars, The Used and Saosin. Even with multiple line-up changes, TRJA's vision has always been clear, performing for numerous charity and community events throughout the US.
**Tickets on-sale now**
Thursday November 7th – The Hi-Fi Brisbane,
Tickets on-sale through oztix.com.au 18+ only
Friday November 8th – C.eX Coffs Harbour,
Tickets on-sale through dashtickets.com.au 18+ only
Saturday November 9th –|The Mcenroe Meltdown @ The Racket Club, Newcastle,
Tickets on-sale through dashtickets.com.au Licensed All-Ages event
Thursday November 14th – UTS Glasshouse Sydney
Tickets on-sale through dashtickets.com.au Licensed All-Ages event
Friday November 15th – The Corner Hotel Melbourne
Tickets through dashtickets.com.au 18+ only
Saturday November 16th – Adelaide Uni Bar,
Tickets on-sale  dashtickets.com.au  18+ only
Comments
comments