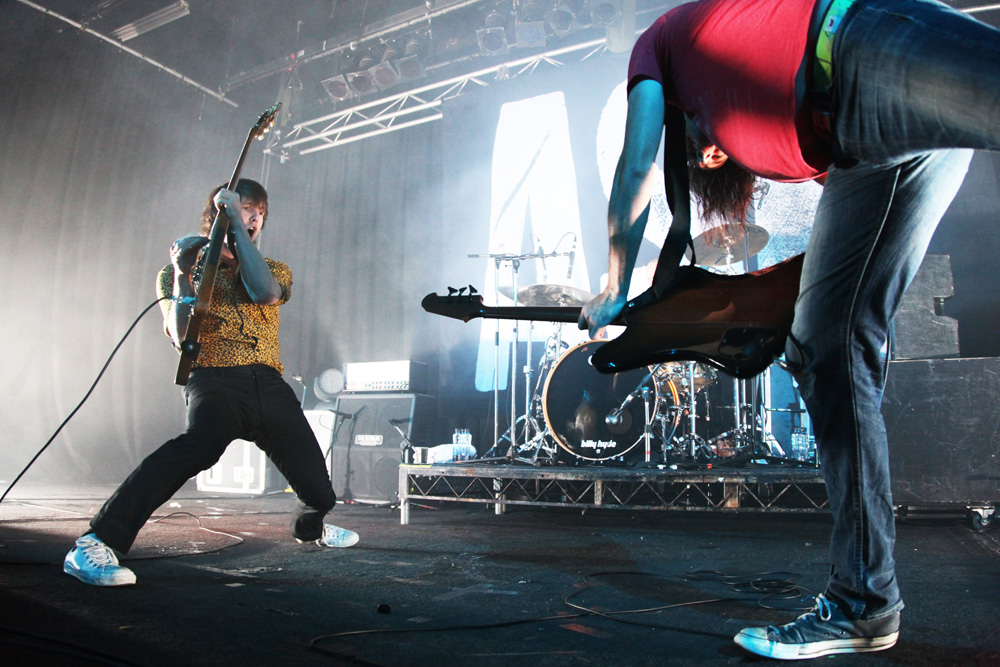 The 'Nostaglia' tour seems to be the flavour of the, well, last few years actually… bands are heading back into their catalogue and dusting off the usually never touched album tracks and giving fans a taste of generally their favourite album in a start to finish live experience. I love these things; I do, and often get excited when I hear of a new band touring doing just this. So tonight, its Irish rockers ASH with their buzz guitar ridden 1996 classic '1977', so let's see how it holds up in this environment at The Metro tonight after seventeen years since its release…
Charlie Horse from Sydney are first up tonight and with the strong female vocals they gave us a smooth, at time laid back style reminiscent at times of The Clouds or Concrete Blonde and I wish I knew what this second song was called as that was a ripper. They get a little bluesy at times, in particularly with 'Dead Roses' which was a single of theirs, showcasing some great musicianship. Pretty cool band I must say.
With a set up and sound check that I'm sure will last longer than their actual set, Skipping Girl Vinegar finally got under way with their interesting mix of acoustic style / psychedelic tunes. Tough crowd for these guys tonight but they powered through their set, standout for me was in fact the final song of their set. 'Chase The Sun' was catchy and well worth a listen.
It's a late start for ASH tonight, going on 10:15 and The Metro is packed! I haven't seen it this full for quite some time, I love that, and as the Star Wars Tie Fighter flies across the room, well audibly at least, 1977 is kicked off with 'Lose Control' and that's exactly what has just happened… ASH are back in Australia for the first time since 2010 when they were here for Splendour In the Grass and tonight, it's on like Donkey Kong, wait, Donkey Kong wasn't around in 1977… but you get what I mean. This is the first time Australia has been treated to hearing this album in its entirety, and from those here it's evident they have been waiting some time to do just that. 'Goldfinger' gets everyone singing along as the three piece play through it effortlessly. Many here would know 'Girl From Mars' the most and it's up next… Yep, cheers and many happy right now, including the three guys next to me singing it at the top of their lungs. I've always liked that song and hearing it and seeing it tonight just made it that little bit better. 'I'd give you anything' and 'Gone The Dream' get that mid-level reception, then 'Oh Yeah' jumped the queue with its gang vocals and mini mosh down the front, noticing their mistake and skipped track 'Kung Fu' brings it right back up and I don't even think anyone cares that they were out of order. Some crowd participation makes everyone happy. What mix up of songs?
So songs like 'Let It Flow' and 'Innocent Smile' are great, and the diehards down the front are loving them, and even with showcasing some kick ass musicianship, the casual single loving ASH fan, is just waiting… for 'Angel Interceptor' and here it is. I look around to see many a sway and a bobbing head which is a good sign. Only a couple to go from 1977 and Tim gives us one of his favourites in 'Lost In You' complete with bitchin guitar solo. The album closes with 'Darkside Lightside' and thankfully no vomiting taking place… as the band leaves the stage only to soon return for a 'greatest hits' set…
That didn't take long as the opening notes of 'A Life Less Ordinary' causes screams, and you get the feeling the next eight tracks will all cause that kind of reaction. 'Evil Eye' has been my favourite song of the night, loved it! But 'Shining Light' seems to be the majority of everyone else's favourite. This encore seems to be of a heavier nature musically which is fine by me! A super long version of 'Return of The White Rabbit' got a bit grating but 'Burn Baby Burn' was the perfect one for the band to 'leave' us with. Fair to say that they all love this one here tonight.
Leaving the stage again, and half the crowd leaving also, their loss, seriously, the lights are still down people, the band return to give us a couple more. 'Uncle Pat' and closing with their first ever single from back in 1992 'Jack Names the Planets' they leave the stage and they're not coming back this time…
This was a cool show tonight, very easy to listen to songs, a tight three piece band and a crowd that in close to two hours were teleported not only back to 1977 but also 1996 and hopefully for that time they felt younger again. Twenty year old me really dug tonight.
Photos by Annette Geneva – Check out the full live gallery HERE
Essential Information
Venue: The Metro Theatre – Sydney
Date: August 20, 2013
Supports: Charlie Horse, Skipping Girl Vinegar
Website: www.ash-official.com
Set List:
Lose Control
Goldfinger
Girl From Mars
I'd Give You Anything
Gone The Dream
Kung Fu
Oh Yeah
Let It Flow
Innocent Smile
Angel Interceptor
Lost In You
Darkside Lightside
A Life Less Ordinary
Walking Barefoot
Evil Eye
Shining Light
Orpheus
Return of the White Rabbit
Burn Baby Burn
Uncle Pat
Jack Names the Planets
Comments
comments