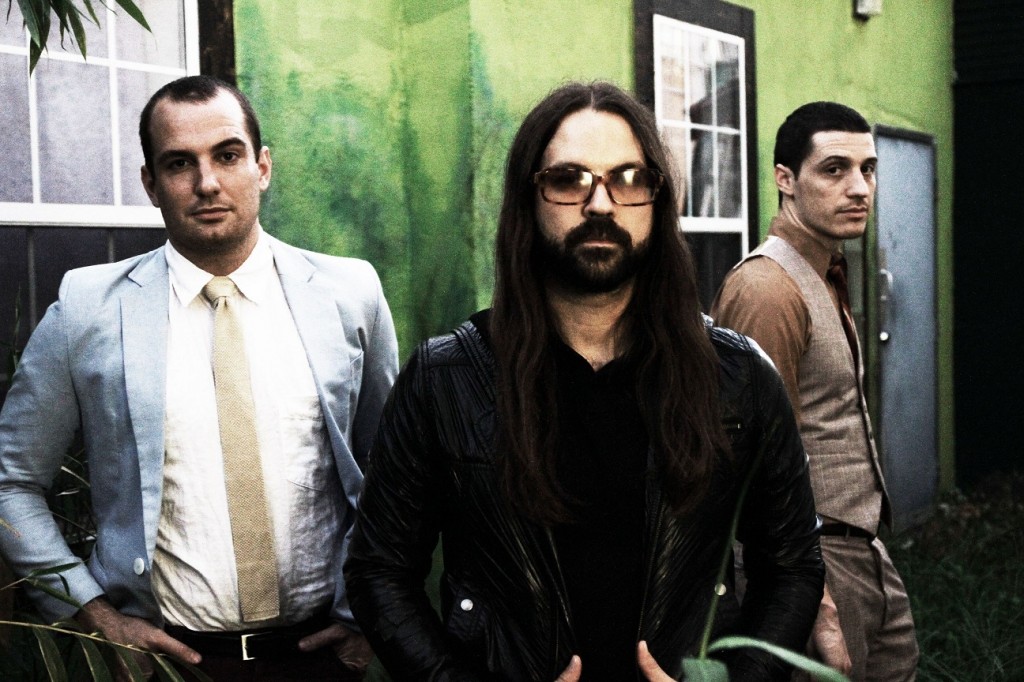 "Yeah it's been really fantastic, we feel so grateful and really so humbled every time we come out there and it just started happening on this record and it's really been a bright spot on this whole 'Odd Soul' experience for us and it's still one of our favourite records and we're really grateful that Australia seems to have liked and invited us over there a few times, so we can't wait to come back."
From Bio: Artistically, Mutemath has made a rock album that is unmistakably and inherently their own. Rooted in New Orleans rhythm and blues, fusing elements from psychedelia to traditional gospel to modern electronica, Odd Soul is constructed to live up to its title. "I think the title describes this record in every context." Meany summarizes, "It's who we are, where we've been, and what we incidentally sound like when set to music."
We chatted to Paul from Mutemath about their forthcoming Australian visit as well as visits past, their newest album 'Odd Soul', how they've changed as a band and the prospect of new music a lot sooner than you may think…
You're heading back to Australia for the Harvest Festival this November, for someone who may have never seen you before, how would you explain a typical Mutemath show to them?
*laughs* Well it's getting more and more difficult with each passing, record, we've done three now. I would still hold true that it's some sort of ballet of chaos, a beautifully poised ballet of chaos, that's what I would say.
You were in Australia last year for another festival in Groovin' The Moo as well as some shows and back earlier this year, seems you can't stay away, and the sold out signs must help, how have you seen the Australian fan base grow over your trips here?
Yeah it's been really fantastic, we feel so grateful and really so humbled every time we come out there and it just started happening on this record and it's really been a bright spot on this whole 'Odd Soul' experience for us and it's still one of our favourite records and we're really grateful that Australia seems to have liked and invited us over there a few times, so we can't wait to come back.
What do you think it is though that Australian's relate to with Mutemath?
Well, it's still hard for me to completely get that, I don't really know… and perhaps I shouldn't ask because I don't want to know *laughs*… but I think we certainly embraced a little more of our rootsier side on this particular record, and by that I mean some of the New Orleans influences came through and we really wanted to make a record that channelled some of our initial memories of making music and when dad was teaching us songs in the garage. This record was really about breaking it down for the remaining guys in the band, we lost a guitar player so there's just three of us and we locked the door on everyone in my house and just made the record and kind of rediscovered for ourselves why we started doing this thing in the first place and it was nice, it resounded a bit in Australia. I don't know, I hope it has something to do with that but it probably has something to do with our drummer Doug taping his headphones or something like that, I'm not sure, I don't know. *laughs*
So after playing 'Groovin' The Moo' last year and coming back for Harvest, how do you treat the festival environment compared to say a club show?
Yeah well the experience is more blurry at a festival, you're just throwing and going and it's all very exciting, but you have a few more X factors to deal with that you usually don't plan on. I remember the first time we played 'Groovin' The Moo' we had just started doing this thing at our show where we have this inflatable air mattress that has lights and there's a certain part in the show where I go out on it and I sing and crowd surf on this inflatable thingy. For whatever reason, and we'd already done it a few times in the States and it went OK, we had a certain way of pulling it off and what I didn't account for, for any reason is that the Australian audience seem to really think the idea was to see how fast they could knock me off that thing and so it threw a new dynamic to that type of gag that we were doing. You know, the festival situation, things are breaking, things are always seem to not work and you're in a state of emergency most of the time which usually adds to the excitement. Anyway, we're looking forward to it, we've sort of been locked up in controlled environments for the past six months just playing our shows, so it'd be kind of nice to throw some variables in, looking forward to it.
'Odd Soul' has been out for close to two years now, have you been working on new material?
Yeah feverishly actually, as a matter of fact the last time we were out in Australia we were trying out some new songs, so yeah, we've come back since then and we've just been trying to perfect those and chisel the ideas and we hope to have it done by the end of this year.
Has anything specific inspired you over the last couple of years for what you've been writing?
Well, I'd say probably as far as life goes, the newest thing for all of us in the band is that we're all new dads now, we all have kids so that's certainly a new frontier for what everyday life is like, transitioning as a band I feel like we're going through some sort of band puberty right now. So, there certainly seems to be a new lens on the music, I don't know if it's affecting the sound much, but, it's certainly a lot more difficult to get things done now having kids running around, so that might be why we're taking a little bit longer on this record. I think we really, we're kind of hungry, it's record four for us and I think we've always said we're not going to put out a record unless there are some sparks, you've got to find the sparks that made you want to make a record in the first place like why we made our first record. I think in running various experiments and you're blindly throwing paint on a canvas and hoping it looks like something and you can shape it over time, but I think we're just trying to find what feels right, right now you know? And is it worth doing another record for. So we've stumbled onto some things and I think that playing the new music in Australia was helpful and kind of made us figure out what was good and what wasn't, so every time we're just trying to get out the best record we've done so far and still believing that your best is in front of you. Whether or not it is, is if you ever hear this record when it comes out.
On the album, it was the first time you took on producer duties, is this something you will continue on with on future releases?
No, I don't think so, we're changing up the process, I think that's always important for us. I think we really want to find the right collaborator; we would like to find our fifth band member for this record. So we feel like whenever we come out of a former record, we don't want to fall into a pattern, we're always fighting patterns and ruts, so I think bringing more people into the creative table this time is alluring to us, so we're going down that road.
At over ten years as a band now and seven since your first album, what do you see as the biggest lesson you've learned in your time as a band?
We really learned how to get along a little more, I think that not all bands, but certainly we suffered from this to a degree we went into making our second record there was a certain mistrust that was happening within the band as we were creating for the first time in the light of previous work and everyone is bringing in these new sets of ambitions to continue on with this band thing now that we have and things are kind of working. We found ourselves getting petty a lot working together you get divided over songs and you realise half the band likes the song, half the band doesn't and who's going to win the fight, and perhaps the drummer is asking me to re-sing the vocals because I just told them that his drum part wasn't that good, it was that type of little petty arguments really can spiral out of control and make for you to certainly resent the experience of making music and it doesn't usually make for good music, at least not for us. We went into making the third record really was to learn from experiences like that and if there's anyone I should be listening to when they ask me to sing a vocal part over, it's the drummer, because he knows me better than anyone and we're going to be locked up together on the road for the next two years playing the songs and he wants the song to be as good as I do, and I think getting passed that was an important hurdle for us as a young band and certainly going forward it's made making music a lot easier continuing on.
What does the rest of 2013 look like for Mutemath?
Well we're just doing some shows, mainly we're recording, in September / October that's when we're hunkering down to try and finish and that's it. Then we're coming to Australia in November, and then we're going to India in December and hopefully have a new record out by next year so it's all hands on deck to get that achieved.
Best of luck with everything; see you in November, and at this rate probably February next year too yeah?
That would be wonderful *laughs* I hope so…
Essential information
From: New Orleans, LA, USA
Band members:  Paul Meany – Vocals/Keys, Roy Mitchell-Cardenas – Bass / Guitar, Darren King – Drums
Website:  http://www.mutemath.com
Latest Release: Odd Soul (Out Now – Warner Music Australia)
Catch Mutemath at Harvest Festival this November:
Sunday November 10: Melbourne, Werribee Park
Saturday November 16: Sydney, The Domain
Sunday November 17: Brisbane, City Botanic Gardens
TICKETS ON SALE: NOW
AVAILABLE FROM
http://www.harvestfestival.com.au/
Comments
comments