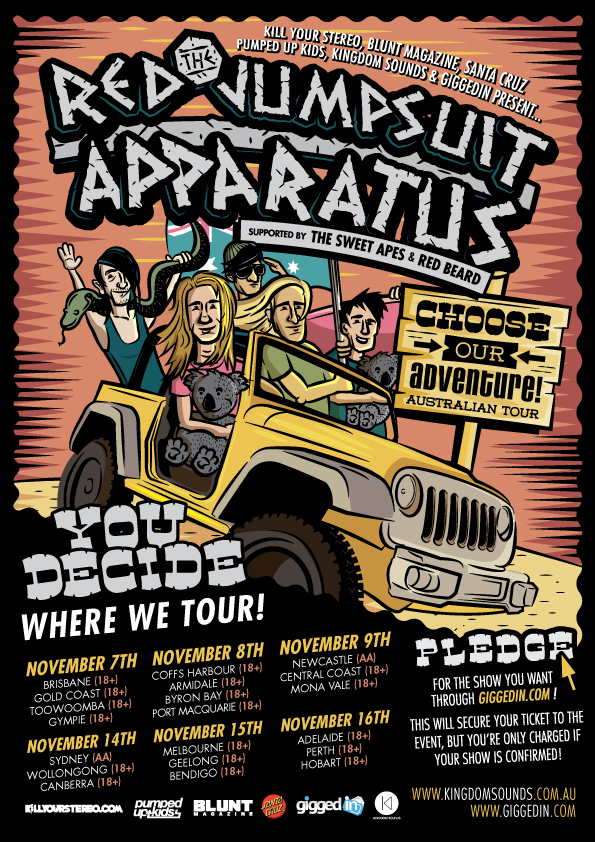 Kingdom Sounds, Pumped Up Kids, GiggedIn, Kill Your Stereo, Blunt Magazine and Santa Cruz presents
THE RED JUMPSUIT APPARATUS (USA) – CHOOSE OUR ADVENTURE AUSTRALIAN TOUR 2013
The Red Jumpsuit Apparatus is a Faith driven punk rock/post hardcore band who strives to show people the light in a world of dark through music and after 4.5 years – the band are finally coming back to Australian shores to celebrate the release of their latest 10th Anniversary EP  'Et Tu, Brute?'.
However, this time around it won't be just an ordinary tour. For the first time in Australian history, fans from cities around the nation will compete to decide where the band will tour by pledging to buy tickets via GiggedIn.
GiggedIn is a live music crowdfunding and ticketing platform enabling the opportunity for true Red Jumpsuit fans to pledge and bring the show to their hometown. More information and pledging will open up on the 9th of July through the GiggedIn website.
The Red Jumpsuit Apparatus brings somewhat a nostalgia factor to mid naughties, best are known for their massive hits 'Face Down' and 'Your Guardian Angel' released in 2005, however the aim of this tour is for the band to play in-front of their real fans in Australia that they may of missed through playing on the Soundwave tour back in 2009.
Red Jumpsuit Apparatus 'Choose our Adventure tour' will be supported by Pop-core cool cats 'The Sweet Apes' and bearded hairdressing synth rockers 'Red Beard'.
You Decide Where We Tour! Pledge for the show you want through GiggedIn. This will secure your ticket to the event, but you will only be charged if your show is confirmed.
– The Choices Are –
Thursday 7th November – Brisbane (18+) or Gold Coast (18+) or Toowoomba (18+) or Gympie (18+)
Friday 8th November – Coffs Harbour (18+) or Armidale (18+) or Byron Bay (18+) or Port Macquarie (18+)
Saturday 9th November – Newcastle (Lic. AA) or Central Coast (18+) or Mona Vale (18+)
Thursday 14th November – Sydney (Lic. AA) or Wollongong (18+) or Canberra (18+)
Friday 15th November – Melbourne (18+) or Geelong (18+) or Bendigo (18+)
Saturday 16th November – Adelaide (18+) or Perth (18+) or Hobart (18+)
Comments
comments