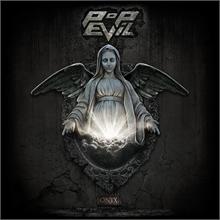 POP EVIL STREAM NEW ALBUM IN ITS ENTIRETY
New Music Video Live!
"Onyx" Out Tomorrow!
With their new record "Onyx" hours away from release, POP EVIL are streaming their new effort in its entirety via Loudwire.com today.
The band released the official music video for their Top 5 Rock Chart single "Trenches" last week. The video is the finale of a three part series to be released in reverse directed by Swedish director Johan Carlén Mask. Click the above link to watch!
1. Goodbye My Friend
2. Deal with the Devil
3. Trenches
4. Torn to Pieces
5. Divide
6. Beautiful
7. Silence & Scars
8. Sick Sense
9. Fly Away
10. Behind Closed Doors
11. Welcome to Reality
12. Flawed
POP EVIL will release "Onyx," their fourth studio LP on Tuesday, May 14th and have already secured a Top Five Mainstream chart position. Accolades continue to pile up as the band gets ready to release their most comprehensive material of their career.
POP EVIL will be in usual form this spring and hitting the road harder than ever. Dates are confirmed across the US with SEVENDUST in May with a highlighted stop on the main stage at Rock on the Range Festival with SOUNDGARDEN, ALICE IN CHAINS and SMASHING PUMPKINS.
Comments
comments