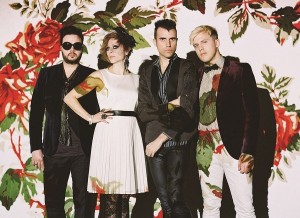 NEON TREES – LIGHTING UP MELBOURNE & SYDNEY STAGES
The Frontier Touring Company has announced that Utah rockers Neon Trees will be tearing up Melbourne and Sydney with a special one off performance in each city this May!
The band is set to perform their infectious brand of pop rock at Ding Dong Lounge in Melbourne and The Standard in Sydney for their first Australian shows since 2011.
Well known for juxtaposing dazzling guitar hooks with thoughtful and reflective lyrics the last 12 months have seen the band climb to the top of the charts with second studio album Picture Show (out now through Universal).
The album was produced by Justin Meldal-Johnson who has worked with everyone from Beck to M83 and the album itself manages to nuance the restless surges of new wave, yet never takes itself too seriously.
Lead single 'Everybody Talks' has been a song that lives up its namesake; making it to #6 on the Billboard Hot 100 as well as go multi platinum in the U.S., here in Australia it's their second single to go platinum and charted ARIA's top 10.
The album has accomplished that rare feat of getting people up dancing whilst still impressing critics;
"Fans of this Utah synth-rock outfit's ultra-catchy 2010 hit 'Animal' will find much to appreciate about Neon Trees' sophomore album, Picture Show, which leads with a half-dozen hook bombs right in a row… Neon Trees flex some impressive song craft here. Picture Show should end up as one the year's most tuneful rock releases." –  Billboard
"This is a perfect album for the summer, or the spring… or pretty much anytime you need something bursting with fun melodies." – Absolute Punk
Neon Trees are also formidable live "I think one of the things we're good at is putting on a show," says drummer & vocalist Elaine Bradley, in fact the band caught their big break opening for The Killers and have since gone on to open for Thirty Seconds To Mars, My Chemical Romance, The Offspring and Maroon 5 to name a few.
The bands commanding live performances have managed to enrapture audiences and critics alike;
"Right from the start, it was clear we were in for one hell of a set. Charismatic frontman Tyler Glenn pranced around the stage, vamping for the crowd, swinging his microphone, kicking his legs, and singing his heart out. Glenn and his band mates are incredibly polished, uber-talented, and passionate…
a true spectacle of sight and sound." – Hollywood Reporter
Neon Trees first captured the public's attention with 2010's Habits, bursting with charisma and clever story telling it's break through single 'Animal' scored a #1 on the U.S. Alternative Songs Chart eventually winning 'Top Alternative Song' at the 2011 Billboard Music Awards. In Australia the single was certified platinum and was the most played song on Australian radio in 2011. 'Animal' has also since been covered by a host of artists from Taylor Swift to Panic! At The Disco.
Neon Trees have also lit up screens as well with a huge number of television performances including Jimmy Kimmel, Jay Leno, Conan, David Letterman, Ellen and America's Got Talent.
Be ready; with an artillery of radio stompers and the stage presence to back it up the band is unquestionably set to burn brightly when they hit the stage this May.  With only two shows tickets are set to fly so make sure you snap yours up quickly…
NEON TREES – MAY 2013
Frontier Members pre-sale via www.frontiertouring.com/neontrees
2pm AEDT Thu 11 April to 2pm AEDT Fri 12 April
General public on sale from 9am local time, Tues 16 April
Wed 15 May – Melbourne | Ding Dong Lounge – (18+)
www.oztix.com.au | Ph: 1300 762 545
Thu 16 May – Sydney | The Standard – (18+)
www.moshtix.com.au | Ph: 1300 438 849
www.fameisdead.com | www.facebook.com/neon.trees | Twitter @neontrees
www.frontiertouring.com/neontrees | www.facebook.com/frontiertouring | Twitter @frontiertouring
Comments
comments