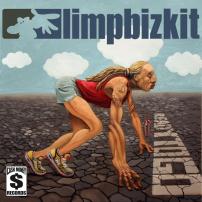 Limp Bizkit have officially released "Ready To Go" featuring Lil Wayne, their very first single for Cash Money Records, available on iTunes and all digital retailers now. It's a taste of what's to come in 2013 from the Grammy Award-nominated multiplatinum Florida titans-Fred Durst [vocals], Wes Borland [guitars], Sam Rivers [bass], and John Otto [drums].
Striking the perfect balance between ballsy hip-hop and heated hard rock, "Ready To Go" can easily ignite a dance floor or a mosh pit. Boasting production from Polow da Don [Pitbull, Chris Brown], the group's signature concoction of innovative riffing, funked-up bass, bombastic drumming, and scorching rhymes is more intoxicating than ever before.
Durst and label mate Lil Wayne trade sharp and sly verses as crunching guitars gyrate alongside fierce scratching. It marks the band's formal debut for Cash Money Records and heralds their oncoming seventh album Stampede of the Disco Elephants, due out later this summer.
About "Ready To Go," Durst comments, "We felt like it was a monster. This is a new chapter for us, and it's exciting. We always knew we wanted Wayne on there, and he killed it. The track really represents a lot of the elements that make up Limp Bizkit-and always have. The band's shining in so many different ways, and there are layers you can peel back. You'll know it's us when you hear it.  We still wild out in our own way." 
Not only is this the band's first release for Cash Money, it makes some history for the label as well. "Ready To Go" will be the very first MFIT-Mastered for iTunes-Cash Money download. It's been fine-tuned specifically for high quality digital downloads, and it's meant to be played loud.
Limp Bizkit are also gearing up for an up-close-and-personal headlining tour of intimate venues in the United States. Dates began selling out upon its announcement. However, Durst and co. want all of their hardcore fans in the pit, and each show a few lucky attendees will be added to his personal guest list.
The next age of Limp Bizkit is well underway. Are you "Ready To Go?"
LIMP BIZKIT – 'READY TO GO' – OUT NOW
Available on iTunes Today in MFIT
Comments
comments