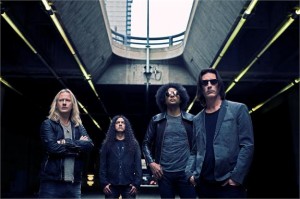 Alice In Chains have announced a May 2013 release for their highly anticipated new album, THE DEVIL PUT DINOSAURS HERE. Fueling excitement is the first track "Hollow," which was initially released as a lyric video but has taken on a life of its own, hitting No. 1 on the US Mainstream Rock radio chart and closing in on No. 1 on the US Active Rock radio chart.
The band posted the lyric clip on their official site back on December 18 and it quickly went viral. As word spread among fans, radio programmers in the US bypassed traditional procedure and began playing the song on air. Rather than wait to receive an official edited track from the record company, stations played the almost-six-minute-long version of "Hollow" in its entirety. Over the course of the weeks that followed, the song's radio spins increased exponentially, making it the No. 1 Top Gainer at US Active Rock for six consecutive weeks.
The song was amplified by the Vevo premiere of an official companion video, which was shot by award-winning director Roboshobo (Metallica, Mastodon, Green Day). Now over the one million view mark, the stunning sci-fi themed clip can be seen here:
Recorded in Los Angeles with producer Nick Raskulinecz (Foo Fighters, Deftones), THE DEVIL PUT DINOSAURS HERE follows 2009's hugely successful release BLACK GIVES WAY TO BLUE. That album entered Billboard's Top 200 at No. 5, sold over one million copies, spawned two No. 1 hit singles ("Check My Brain" and "Your Decision") and a third ("Lesson Learned") that went top 10, earned two Grammy nominations and saw the band (vocalist/guitarist Jerry Cantrell, vocalist/guitarist William DuVall, drummer Sean Kinney and bassist Mike Inez) headlining a sold-out international tour that wrapped at Madison Square Garden in New York City.
Fans can catch Alice In Chains performing "Hollow" and a setlist packed with fan favorites during their upcoming North American tour. Head to www.aliceinchains.com for full details.
For further information, please contact your local EMI Music representative, or check out:
www.facebook.com/aliceinchains
Follow on twitter @aliceinchains
Comments
comments