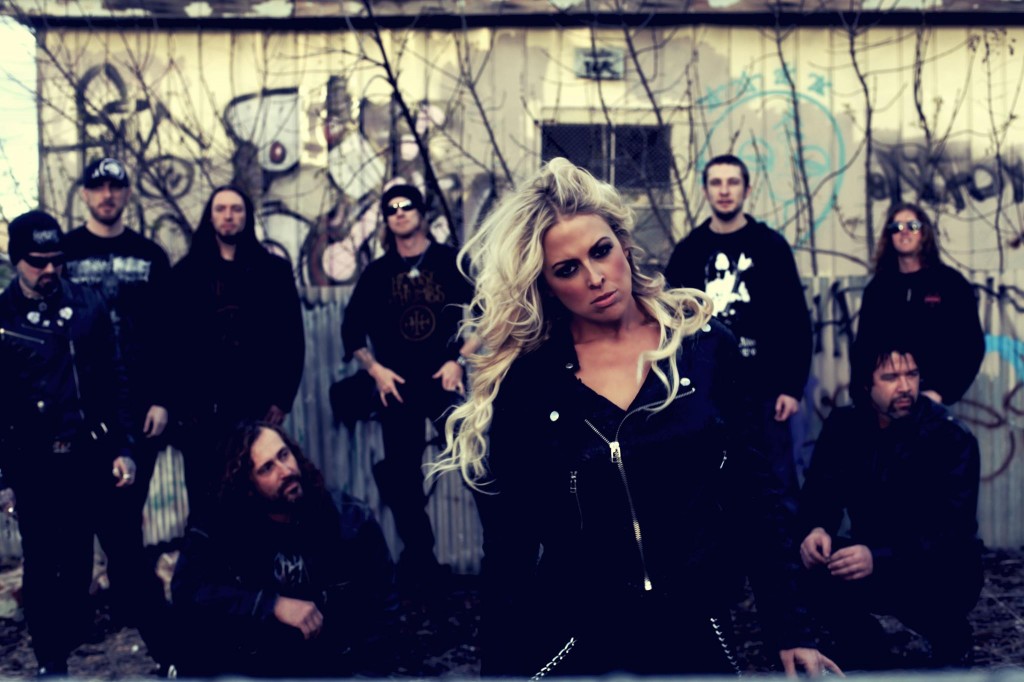 AUSTRALIA'S TOUGHEST FEMALE FRONTED HARD ROCK BAND RELEASE MUSIC VIDEO for "Enemy"
HEAVEN THE AXE are releasing their debut video clip for Track 1 "Enemy" off their debut record "Sex, Chugs & Rock 'N' Roll".  Filmed, directed and produced by Thanassi Panagiotaras (Thanassi Inc.) over a period of months with the support and generosity of many devoted fans, friends and Vicotorian businesses. The band would like to thank Human Sacrifice Theatre Company, Level 2 The Club – Northcote, Smythesdale Courthouse, Kryall Castle, City Of Melbourne, City of Port Phillip, Monster Energy and Schecter Guitars.
"We are very passionate about the injustices and hypocrisy of the systems that govern us within our musical inspiration, and while each and every one of us battles with the Enemy within, we wanted to make a clip that our fans would relate to as there is increasing evidence in the world about the corrupt system, the rules that confine us and the exposure to the evidence that those in power and control are not always operating from a point of integrity" – Phoebe
In conjunction with the launch of the clip, HEAVEN THE AXE are launching a brand new website sponsored by Tina Ceres and Christina Faultier. www.starandheart.com
Crew
Writer / Assistant Director – Steve Zelko
Production Assistant – Marcus Huntley
Production Assistant – Izeqiel McCoy
Production Assistant – Jason Walmesley
DP Kryal Castle – Josh Papp
Camera Op/Production Stills – Christian Faultier
Film Audio – Simon Knight
Cast
Defence Attorney – Mark Diaco
Prosecuting Attorney – Mark Crees
Policeman – Justin Hosking
Policewoman – Emma Walmsley
Judge – Bruce Kerr
Surprise Driver – Dave
Stunt Driving – DJ Les Toth
HEAVEN THE AXE are a hard rock collective based in Melbourne Australia – a juxtaposition between the illustrious, hypnotic, powerful and beautiful female vocals of songwriter Phoebe Pinnock, twisting their way around a stomping Aussie
riff factory!  The fellas in the riff machine are an Aussie metal supergroup from notorious and groundbreaking Aussie metal bands such as Manticore, Damaged, House of Thumbs, Terrorust – The vibe is PURE ENERGY!!! 9 members strong with 5 playing live at any one time, HEAVEN THE AXE released their debut record "Sex, Chugs & Rock 'N' Roll" independently in late 2011 and have toured solid headlining shows since around Australia filling venues and gathering glowing industry reviews about their high energy live performance and X-factor showmanship.
HEAVEN THE AXE are Australia's toughest female fronted hard rock band. Touring as main support on a string of shows with Rose Tattoo, supporting CrashDiet from Sweden, playing live at Summernats 2010 & 11, regularly cranked as the soundtrack to V8 Supercars on national TV, feature interviews and regular airplay on the nations biggest broadcasters Triple J and Triple M, TV documentaries as well as constant unwavering feature support from community radio. Their music is the soundtrack in the upcoming iconic Paramount feature film "Housos VS Authority" and movie trailer to be released in November.
HEAVEN THE AXE released their debut video clip on Oct 13, 2012 inviting approximately $30,000 worth of sponsorship to achieve this from various community and private organisations.
Line up:
Phoebe Pinnock – Vocals
Steve Watts – Guitar
Mat Silcock – Guitar
Trav Price – Bass
Aramis SV / Tommy Rossell / Matt "Skitz" Sanders – Drums
Discography:
"Sex, Chugs & Rock 'N' Roll" – 2011 (Self-release)
Links: www.heaventheaxe.com
Comments
comments