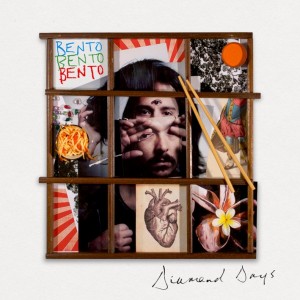 In Summary: "I've already played 'Diamond Days' through a number of times and it's an album that I will happily continue to listen to…"
It's always a daunting task for any member of a band to step out and go solo, especially when taking the vocal lead, but even more so when you're the co-founder and drummer in one of Australia's biggest bands, that being Silverchair, oh and that's the only time I'll mention that by the way… This is Ben Gillies' new baby Bento and this is the debut album 'Diamond Days', I'm really enjoying this album by the way and it's taken a few listens for me to actually remember I had to review it, I was taken in, swept away and forgot to write about it, so I've snapped myself out of that and finally here to tell you about it…
'Diamond Days' is not only the name of the album but also its title track which opens the record and from the first second of the infectious furious keyboard notes you just get the feeling this is going to be different, be good and be something you're not expecting, oh and Ben can sing.  The song itself is one catchy little ditty, in fact I'm now up to day 7 of having it stuck in my head, it's close to surpassing the record held by Rick Astley in 1987 of 12 days but I'm hoping Rick will be dethroned soon as this song is something damn good. I'm impressed, let's just say that and kudos Ben for the first single choice. 'Words of Love' asks us to carry on with its soothing groove and then we jump straight in to another catchy one 'West Side Story' in an almost 80's style new romantic track, the simple chorus will have you hooked, and any song with hand claps wins in my books.
I love the direction this album takes, it is just enjoyable to listen to, the songs are well crafted and performed, as Ben did pretty much all of 'Diamond Days' himself, with some help from a few musical mates in Thomas Rawle (Papa vs Pretty), Scott Alpin (Music director on The Voice) and Dave Symes (Missy Higgins' music director) who have helped shape the album in to what it is. 'Glue' has an early 90's STP / Pearl Jam feel to it at times, then 'Miss My Mind' rocks it up a little and get psychedelic at times with an outro that is more out there than Pluto, but it's 'Obsession' that is another stand out on 'Diamond Days' for me, I just love the way this song works, it draws you in and keeps you there. Continuing on with 'How Many Times' and 'Wheels Turn' that take on a 70's almost disco type vibe at times, well… not disco, but just that 70's groove, and I think groove is the perfect word to describe this album, it has one, actually lots of it. 'Living Strong' finds shades of rock and punk, maybe even some Sex Pistols in there for some fun, and is the most 'rock' track on the album complete with crunching guitars, but I say this until 'Poison Ivy' kicks in with a riff and this is the closest I feel Ben has come to work from his other band, it's a great track and production wise the subtle backing vocals really make it in the chorus.
With only a couple of tracks to go, 'April Fool' keeps the tempo up but the album closes out with 'Naked Next To Me (After Dinner Mint)' which is a trippy little piece at just over two and a half minutes and is almost like a come down, it's kinda odd, but kinda works.  It could've only gone at the end of the album as it wouldn't have worked at all in the midst of the stronger tracks.
In closing, for a first effort solo album, Ben Gillies you've done well, as I said I've already played 'Diamond Days' through a number of times and it's an album that I will happily continue to listen to, I really look forward to seeing what's next for Bento…
Read our interview with Ben Gillies here…
Essential Information
From: Australia
For fans of: Rock & Roll
Release date: 26 October 2012
Record label: Independent
Producer: Ben Gillies & Eric J Dubowsky
Website: http://www.wearebento.com
Track Listing:
1. Diamond Days
2. Words of Love
3. West Side Story
4. Glue
5. Miss My Mind
6. Obsession
7. How many Times
8. Wheels Turn
9. Living Strong
10. Poison Ivy
11. April Fool
12. Naked Next to Me (After Dinner Mint)
The video cannot be shown at the moment. Please try again later.