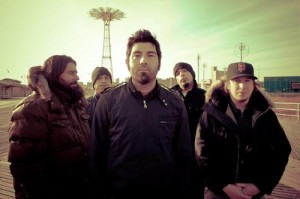 Grammy-winning alternative rock band Deftones have announced the November 9 release of their seventh studio album, entitled KOI NO YOKAN.
KOI NO YOKAN was recorded in Los Angeles, CA with Nick Raskulinecz (Alice In Chains, Foo Fighters, Rush) who also produced Diamond Eyes. Front man Chino Moreno summed up Deftones' sound in a recent interview with Entertainment Weekly, saying "Obviously we're an aggressive band – not the heaviest, but there's a lot of attack.  He continues, "But there's also this lush beauty that flows within everything that we do, and that's my favorite part of the band. To me, it's the epitome of what the Deftones do."  
From their 1994 debut Adrenaline to their platinum-certified, Billboard chart-topping, Grammy-winning breakthrough album White Pony, Deftones have continually crossed-over genres, defied categorization and delivered compelling live performances around the world.  The Sacramento band's 2010 release Diamond Eyes was named iTunes' "Rock Album of the Year," as well as KERRANG!'s 2010 Album of the Year. Diamond Eyes also graced many other critics and readers "Best Of" lists, including MySpace, AOL Noisecreep, Alternative Press, MOG, and Drowned In Sound.
http://www.deftones.com
www.facebook.com/deftones
https://twitter.com/deftonesband
http://www.oneloveforchi.com
www.warnermusic.com.au
Comments
comments