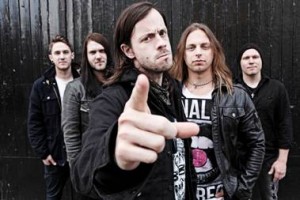 AXEWOUND – DEBUT ALBUM VULTURES OUT OCTOBER 5TH – PRE-ORDERS AVAILABLE FROM SEPTEMBER 14TH
Metal supergroup AxeWound are set to release their debut album Vultures on October 5THvia Sony Music Australia.  The album release will be preceded by the single Cold on September 21st, coinciding with a UK tour.
AxeWound's pedigree is inarguably first class – since they feature guitarist/vocalist Matt Tuck from Bullet For My Valentine and singer Liam Cormier of Canadian hardcore bruisers Cancer Bats, prime movers both in two of the most exciting bands to have emerged onto the metal scene in recent years. The line-up is completed by drummer extraordinaire Jason Bowld (Pitchshifter), guitarist Mike Kingswood (Glamour Of The Kill) and ex-Rise To Remain bassist Joe Copcutt.
The Vultures album was recorded in Cardiff at the start of this year, regular Bullet For My Valentine collaborator Martin 'Ginge' Ford engineering the sessions. From the outset, the aim was to work quickly and instinctively. In the event, they recorded 10 songs in 10 frenetic days.
"It was very intense, very demanding but that's how we wanted it to be," reasons Tuck. "No pre-writing, no rehearsing… just booking a studio and going in and doing a song a day. We wanted to capture something that happened right there and then."
Says Cormier: "The record is great because it's been made by a bunch of friends who are just enjoying themselves playing together and doing something that's different to what they normally do."
By any measure Vultures is a terrific debut. It is, as was intended, a thoroughly uncompromising beast: standout songs Burn Alive and the title track being driven by venomous riffs, the former in particular echoing the sort of thrilling assault administered by the likes of Slayer and Sepultura in their pomp. Yet Tuck's melodic gifts are in ready supply too on hulking tunes like ExoChrist and the epic Collide.
Comments
comments