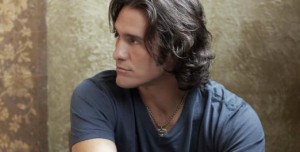 Platinum selling US country star Joe Nichols will make his fourth visit to Australia thisSeptember to perform at the Deni Ute Muster on Saturday 29 and special concerts inSydney on Wednesday 26 and Tamworth on Friday 28.
The CMA award winner, whose catalogue of hits includes Brokenheartsville and Tequila Makes Her Clothes Fall Off, began his love affair with Oz in 2009, when he headlined CMC Rocks the Snowys. The love from fans, who've turned out in greater numbers on each subsequent visit, has been returned in kind by Nichols, who described Australia as 'what heaven's supposed to look like. Either that, or God's got a second home here'.
Joe will kick off his Australian trip with a performance at Sydney's Evan Theatre on Wednesday 26 September, followed by Tamworth Regional Entertainment and Convention Centre on Friday 28, his debut performance in the city.
Saturday 29 September will be his first time performing at the Deni Ute Muster, where he shares the bill with an impressive international lineup that includes Kelly Clarkson and The Living End.
Special guest for the Sydney show is Jasmine Rae, the ARIA nominee whose heartbreaking duet with Joe, I'll Try Anything, was a number one hit last year.
In Tamworth, Nichols will be joined by Morgan Evans, the Newcastle-based singer-songwriter whose debut EP Live Each Day was released earlier this year, with another release set to drop in the coming months.
Tickets for these special performances are sure to be snapped up fast, so don't miss out.
TICKETS FOR SYDNEY & TAMWORTH ON SALE MONDAY 13 AUGUST
TICKETS FOR DENI UTE MUSTER ON SALE NOW
TOUR DATES 
SYDNEY
Wednesday 26 September
Evan Theatre
ProTicket1300 121 012
TAMWORTH
Friday 28 September
TRECC
Tourism Tamworth02 6767 5300
DENILIQUIN
Saturday 29 September
Deni Ute Muster
Deni Ute Muster Website
Comments
comments