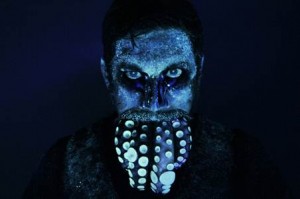 BLACK LIGHT BURNS, CRAVEONLINE PREMIERE THE BRAND NEW SINGLE "HOW TO LOOK NAKED"
"The Moment You Realize You're Going To Fall" out August 14th via Rocket Science/THC: Music
LOS ANGELES – Black Light Burns, the avant-garde alter ego of Limp Bizkit guitarist, Wes Borland, has teamed up with CraveOnline.com to exclusively stream, "How To Look Naked," the first official single from the band's upcoming sophomore release, The Moment You Realize You're Going To Fall, out August 14th in North America via Rocket Science/THC: Music, August 10th (GAS) /August 13th (UK) in Europe through Ninetone/Membran, and August 22nd through Incubator Japan. Stream "How To Look Naked" here: http://www.craveonline.com/music/277-previews/193203-exclusive-premiere-black-light-burns-how-to-look-naked. A music video by famed director Agata Alexander is currently in production and will be available soon.
Borland adds, "Once again I have been asked to say something about a piece of music that should speak for itself. This song may be about you. You are ashamed of yourself. You filter everything in fear of not having the love you put out into the world reciprocated. You have no tact. You are a bag of hammers in desperate need of being dropped off of a cliff. You've grown into a worthless consumer living off a steady diet of bullshit. You reside entirely in a bubble but constantly look for confirmation by playing up your existence to be a shallow reflection of the faux heroes you vicariously live your life through. Should I beat the horse anymore? Has the carpet been thoroughly pulled out from beneath the feet of the song? Is any word written here relevant to any part of the song it's referring to? Anything is possible. Giving quotes for singles feels like whispering sweet nothings to a maple tree. I think I just got sap on my face. I'd mostly like to thank CraveOnline for hosting and debuting the song for us. 'How To Look Naked.' Enjoy."
U.S. fans can pre-order The Moment You Realize You're Going To Fall with a limited autographed booklet through Newbury Comics: http://www.newburycomics.com/rel/v2_home.php?storenr=103&deptnr=710.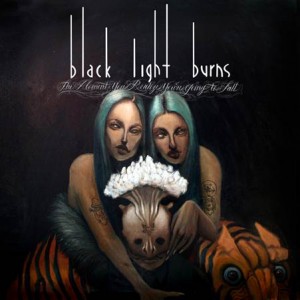 The Moment You Realize You're Going To Fall track list:
 1. How to Look Naked
2. We Light Up
3. I Want You To
4. The Girl in Black
5. The Colour Escapes
6. Tiger by the Tail
7. Your Head Will be Rotting on a Spike
8. Torch From The Sky
9. Because of You
10. Splayed
11. Scream Hallelujah
12. Bakelite
13. Burn the World
14. Grinning Like a Slit
15. The Moment You Realize You're Going to Fall
Black Light Burns released its debut, Cruel Melody, in 2007 featuring Danny Lohner (NIN), Josh Eustis (Puscifer) and Josh Freese (Guns N' Roses), and a follow-up LP of covers and B-side material, 2008's, Cover Your Heart, and an accompanying DVD entitled, The Anvil Pants Odyssey.
In 2009, Borland and Black Light Burns hit the road for an extended run with industrial powerhouse, Combichrist, and contributed the track, "I Want You To," to the Underworld: Rise of the Lycans soundtrack. BLB took a temporary hiatus while Borland stayed busy with a world tour with the reformed Limp Bizkit. In 2012 BLB returned, to the delight of fans, with the track, "It Rapes All In Its Path," on the Underworld: Awakening soundtrack, and the announcement of the impending release of a new LP.
Borland and co. recently launched a new website, blacklightburnsofficial.com, complete with a free download of the album track, "Splayed."
Stay tuned to blacklightburnsofficial.com for more information on Black Light Burns and The Moment You Realize You're Going To Fall.
Black Light Burns online…
www.Facebook.com/blacklightburnsofficial
www.rocketscienceventures.com
www.thcmusicinc.com
About Rocket Science Ventures…
Rocket Science is a premier label services engine founded in 2004, as a solution for artist and management that provides comprehensive label management services and worldwide distribution under one banner. Coupled with Sony-RED Distribution, Rocket Science offers a turnkey solution, with a focus on execution.
Comments
comments