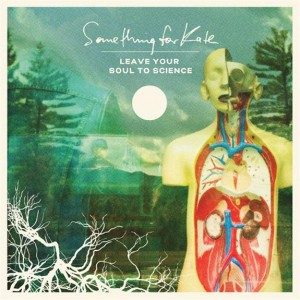 After taking a hiatus while frontman Paul Dempsey released his highly successful and acclaimed solo album, Something for Kate return with album number six and what is truly an adventurous, eclectic and inspired set of songs which demonstrate once again why they are one of Australia's most respected and enduring acts.
Having spent the past few months recording the new studio album in the sweltering Texas summer, the band are excited to officially announce 'Leave Your Soul To Science' for release on Capitol/EMI Music Australia Friday September 28.
Paul Dempsey and band mates Stephanie Ashworth and Clint Hyndman have teamed up with producer John Congleton (Explosions in the Sky, St. Vincent, Okkervil River) in Dallas to record the follow up album to 2006's No.1 ARIA album 'Desert Lights'.
As the title suggests, 'Leave Your Soul To Science' reflects an album that is both brimming with Dempsey's wry and obtuse lyrical examinations and also a renewed sense of sonic exploration.
Paul Dempsey explains the album's direction, "It's definitely the most sonically interesting record we've ever made. There's some really savage, fuzz bass sounds on there. On the one hand, it feels like the most organic record we've ever made, because it's all happened so naturally and quickly. We haven't over-thought anything."
With further updates, including new single details, to be unveiled soon, Something For Kate will continue releasing content via their official website www.somethingforkate.com, Facebook page and Instagram account.  The band will also post secret show information, special offers and pre-sale ticket offers to members of their official mailing list.
SOMETHING FOR KATE | 'LEAVE YOUR SOUL TO SCIENCE' | NEW ALBUM SEPTEMBER 28
http://www.theinsoundfromwayout.com/
http://somethingforkate.com/
http://twitter.com/#!/PaulDempsey
https://www.facebook.com/sfkband
http://twitter.com/sfkband
Comments
comments