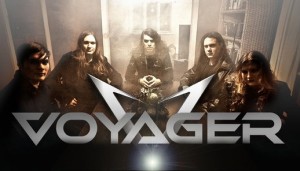 The incredible upward spiral of Perth Prog Metal masters VOYAGER continues as the band will celebrate its return to Australia on June 30th, with a welcome home show here in their hometown of Perth, WA. Currently touring North America supporting Rhapsody In Fire, VOYAGER are captivating larger than expected audiences at every show, winning over a multitude of new fans. The recent sold out shows in Canada reached a new pinnacle in the VOYAGER career with fans, old and new, chanting for more after the exhilirating performances given.
VOYAGER – NORTH AMERICA TOUR REPORT (w Rhapsody of Fire)
So, after almost NOT making it to the USA (Lurrrve yeww Homeland Security), we have driven about 10000 kms, played 10 shows, including three in Canada, eaten countless berries, consumed countless double espressos and have met hundreds of amazing fans. A highlight was a guest appearance by ROYAL HUNT's DC Cooper who sang "Fire of the Times" with the band in Pittsburgh. Check out some of the shenanigans the V-Family has been getting up to on tour!
Send Voyager a message on +1 310 903 2753!
In support of their latest outstanding release 'The Meaning Of I', VOYAGER are riding high on the crest of the wave that ceases to lose momentum. With outstanding crowd reactions and rave review after rave review, you could not possibly see VOYAGER at a better time than right now! 'The Meaning Of I' is a culmination of the VOYAGER sound: polished yet organic, heavy yet melodic, dark yet playful.
If you are yet to hear it, you should!
The 'Welcome Home' show for VOYAGER's has been set for: June 30th @ The Rosemount Hotel. With guests.
Doors 8pm.
Be part of the VOYAGE!