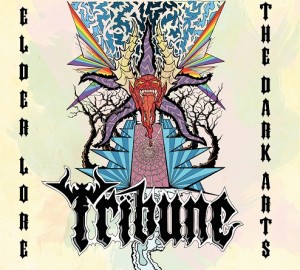 In 25 words or less: 'Prog, Metal, Thrash, Rock, Doom, take your pick, you've got it all here…'
In the what seems to be an ever growing list of bands we've not heard of contacting us, we give you Tribune and their new album 'Elder Lore / The Dark Arts', so let's see what we're in for. This band from Vancouver have been around for almost eight years and have released music previously, but this, their newest album and only second full length in six years is sure to get noticed, and once you listen you'll get why.
Weighing in at only eight tracks I worry, but when I see the length of a couple of the songs I'm relieved. I don't really know how to categorize this band. It's groovy dark metal with an at times psychedelic feel that mixes growls with clean vocals and driving rhythms oh and that's just the first song. The fury of 'Chemistry Arrives' has a musical feel of early Metallica and at over six minutes long gets to showcase many different parts and arrangements. It's a killer track.  Each song on this album is full of multiple arrangements and some great guitar work and I'm sure a very tired drummer.
Oh sweet, a full drum solo. Seriously in 'Below' I wasn't expecting that at all and it was an interesting break in a song, with its Pantera-esque feel throughout, this is a stand out for sure. The album continues along on its merry way delivering these metal riffs and I'm seriously enjoying the clean vocals on tracks like 'Man On The Outside' but even when the growls kick in it still suits the track and the feel of what Tribune are all about. The album clocks out with the nine minute epicness of 'The World's Greatest Cynic' showcasing a mix of everything you can imagine, pretty sure there was a kitchen sink or two in there also. Cool track and a great way to end this pretty solid record.
I actually really dug this record, not sure when I'd dig it out to listen to it again as it's definitely something heavy and not dinner party material, well I suppose it depends on who you're having over, but if the mood struck me, I'd know exactly where it is. A rockin' sounding band that would be great live, I'd love to hear some of these tracks in that environment.  They get points for the awesome art in the CD too.
Essential Information
From: Vancouver BC
For fans of: Prog, Metal, Rock, Thrash… all of the above
Release date: 20 March 2012
Record label: Corpse Corrosion Music
Producer: Tribune
Website: http://www.tribunemetal.com/
Track listing:
It Came From The Swamps
The Succubus
Chemistry Arrives
The Warrior Mentality
Below
We, The Black
Man On The Outside
The World's Greatest Cynic