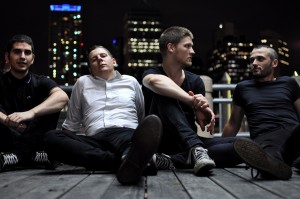 Official Bio:  You've already missed the first year of the Strums… don't miss the second.
The band began with a song. One song, that demanded to be written. Singer Jai Sparks's home was severely damaged in the devastating 2011 Brisbane floods, and at his lowest he turned to music. With friend Eric Mewburn he recorded Oh River, a brutally honest song about loss and hope.  It's a refreshing honesty that's evident in all the band's music, and as Jai rebuilt his life, the band grew as well, first adding members Dan and Enrico, and then growing musically to become one of Brisbane's best loved live acts, and one of the only in the country to make going to see a rock show such damn good fun.
With their brand of foot stomping, hip shaking rock n roll the Strums have won over audiences all around Australia, while supporting King Cannons or on their own headline national tour.  In December the band released their debut EP Are You Picking Up What I'm Putting Down? a rocking collection of five fan favourites, that effortlessly sounds like both a complete record, and also just the tip of the iceberg of what this talented four piece can achieve.  The band secured a distribution deal from MGM for the EP which has received rave reviews from all the important people: Drum Media, Rave Magazine, Blunt Magazine, and Who the Hell.net just to name a few.  If that wasn't enough they've also had a video on regular Rage rotation, and played their first ever show supporting 90s kids entertainer Peter Coombe!
All this in one year, imagine what the next will bring.
We got singer Jai to tell us a bit about The Strums and why they're one of the Best Things You've Never Heard…
Let's start with the basics first – for those that aren't aware of the band, what brought the band together and what is the inspiration behind the band name?
The band came together during the QLD floods and was originally going to be a two piece acoustic band who occasionally filled it out with a full band. The name 'The Strums' seemed to make sense as it was just two blokes strumming away. (I'm also a massive Joe Strummer fan.)
You have twenty seconds in an elevator to try and convince someone to listen to your music, what do you tell them?
I have a really annoying nose whistle, quick put these on to drown it out.
Can you introduce each member of the band and give us a rock 'n' roll fact or myth about each of them?
Eric Mewburn- Lead Guitar– When he gets on the turps he sleep walks naked, no word of a lie.
Enrico Le Mura- Bass– After a massive night he arrived for a 5am flight to Adelaide and shut down all the toilets and a bunch of seating areas from projectile vomiting. He still made the flight.
Dan Topp- Drums– Every part of this man is core, there is not a show that doesn't finish with
Dan's hand being covered in his own blood from slamming it.
Jai Sparks- Lead vocals/guitar– When jamming with a mate I stuck a drum stick directly into my eye by accident and had to yank it out, have you ever bled from the eye? It sux.
Your debut EP awesomely titled 'Are You Pickin' Up What I'm Puttin' Down?!' is out now, can you tell us a bit about the journey of putting this together?
Sure thing, as I was saying earlier Eric and I had written a bunch of acoustic songs and got our first gig supporting Peter Combe. We decided to pull a full lineup together and realised we were without a doubt a rock 'n' roll band.  After that we just started jamming out all the songs and before long had done all the pre-production and were in the studio. The thing I like the most about the ep and everything we do is that we don't fuck around, if we want to do something we just go and do it.
In terms of your song writing, what do you consider to be the most important ingredients that make up a Strums song?
If it's not honest and real it's not a Strums song. We pay no attention to what's popular in the outside world, we write what we feel like and most importantly have fun doing it. So many bands these days are writing songs for Triple J, we are under the firm belief that we disregard them entirely. If we are any good will develop a fan base and they will both want and need us. The odd guitar solo and gang vocal doesn't go astray either.
Both lyrically and musically, what or who inspires/influences your music the most?
Lyrically I'm pretty well inspired by things that happen in life, I find it tends to keep my life a little more interesting as well.  If I am not experiencing things I've got no content (Laughs). Musically it's vast we are influenced by so many different artists of different genres. I think at the end of the day though we are all attracted to music that possesses a certain level of punk rock/rock 'n' roll attitude.
As a band for only a year or so, seeing you perform it's like you've been doing it together for years.  What was it that clicked to make The Strums work so well?
Good question, I think it's that we have all been doing it for years in one way or another in other bands, it's just lucky that we were all at a loose end at the same time. (We have all been playing in gigging bands since we were around the age of 14.) When it comes down to it we are dedicated to a life playing music and I think when you get 4 people together that all feel like that it just works.
Touring wise, you're currently out in support of the EP, now for those that haven't yet seen you perform before, what can people expect from one of your live shows?
It's a super high energy fun Rock 'n' Roll show, if there is something to jump off or onto it's most definitely going to happen. Eric has one spot that's about 15-20 seconds long in the whole set where he doesn't play, his record is sculling 4 beers.  If you leave the show disappointed I will personally buy you a beer. I might also add it's well worth coming early as our opener Rin and the Reckless is not something you're going to want to miss.
When do you think we could expect an album from The Strums?
We have been writing like it's going out of fashion and trying a couple of newies at the shows which are getting some super positive responses. We are looking at around March 2013 at this stage, got a few aces up our sleeves with who we want to work with, hopefully the stars align.
I love the song, but please provide the mathematical solution as to how 'Two and Two is Three'… I'm kidding, so who got the fun job of setting up all the mousetraps for the video?
(laughs) it was a collective effort, the funnest thing about that clip was playing pranks with the bloody things, I had two mouse trap to the ear gags that I walked right into. Eric Mewburn is a right prankster.
Lastly, here's a chance to gaze into your crystal ball.  By the end of 2012, The Strums will have:
1. Toured again
2. Written 20 songs
3. Released a repack of the EP with 4 bonus songs on vinyl
You can catch The Strums on their remaining dates below, as these are shows not to miss we're hearing from all reports of those already played.
Sydney – May 3 – Oxford Arts Factory (Gallery Bar)
Wollongong – May 4 – Yours and Owls
Newcastle – May 5 – The Great Northern Hotel
Byron – May 11 – The Great Northern Hotel
Adelaide – May 12 – Enigma Bar
Essential Information
From: Brisbane, Australia
Sounds like: Rock and Roll
Band members: Jai – Vocals/Guitar, Eric – Lead Guitar/Vox, Dan – Drums, Enrico – Bass
Website: http://www.thestrums.net.au

Comments
comments