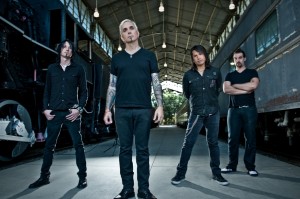 After a 14 year absence KillRockStar Big Dog Entertainment are proud to present power pop sensations Everclear live in Australia in 2012.
Lead by founder and mastermind Art Alexakis and armed with his swag of catchy, guitar driven pop gems, Everclear were an ubiquitous presence on the world's airwaves and TV feeds from the early part of the 90's onwards. Alexakis' clear-eyed willingness to confront life's darker margins has been a hallmark of Everclear's output ever since Everclear's independently released 1993 debut World of Noise.
The band's relentless touring regimen and D.I.Y. promotional tactics helped to set the stage for the platinum-level breakthrough of 1995's Sparkle and Fade, which spawned the hits "Santa Monica" and "Heroin Girl," while establishing Everclear as a popular live attraction and Alexakis as an engaged and articulate media presence.  The band's ascendancy continued with 1997's So Much for the Afterglow, which produced the radio hits "Everything to Everyone," "I Will Buy You A New Life," and "Father of Mine."
Alexakis continued to explore new creative challenges on such subsequent Everclear releases as 2000's two-part Songs from an American Movie, Vol. 1: Learning How to Smile (which yielded a major hit in "Wonderful") and Songs from an American Movie, Vol. 2: Good Time for a Bad Attitude, 2003's Slow Motion Daydream and 2006's Welcome to the Drama Club.  The Vegas Years (2008) was a memorable set of cover tunes, while In A Different Light (2009) and Return to Santa Monica (2011) found Alexakis and company revisiting and reinterpreting items from the Everclear songbook.
The band's current line-up features the ever present Alexakis, along with David French on guitar, Freddy Herrera on bass, Josh Crawley on keys and Sean Winchester on drums. A brand new Everclear album titled Invisible Stars is planned for release later in 2012. "In some ways, this album's a lot more aggressive than anything we've done in a long time," Art Alexakis says of Invisible Stars, Everclear's first collection of new songs in six years as well as the band's first eOne release.  "But in other ways, it's a lot more melodic.  I like having both of those sides covered."
"When I look back at what Everclear has done," Alexakis concludes, "I see a lot of things that have changed and a lot of things that have stayed consistent.  But at the end of the day, I'm still doing the same thing I've always done.  It's still guitar-based rock 'n' roll, and I'm still just telling stories, which is all I've ever wanted to do.  I'm proud of what we've done, and I still enjoy it. And I feel blessed that other people like it too."
Joining Everclear as special guests on all East Coast shows will be Sydney Southern beach rockers Strangers who have recently signed to Shock Records new local imprint Permanent Records. Perth support will be announced shortly.
Tickets On Sale Friday 1st of June 2012
Wednesday 10 October Cooly Hotel. Coolangatta
With Special Guests Strangers
Tickets: www.oztix.com.au
Thursday 11 October HiFi. Brisbane
With Special Guests Strangers
Tickets: www.thehifi.com.au /  www.moshtix.com.au
Friday 12 October HiFi. Sydney
With Special Guests Strangers
Tickets: www.thehifi.com.au /  www.moshtix.com.au
Saturday 13 October HiFi. Melbourne
With Special Guests Strangers
Tickets: www.thehifi.com.au /  www.moshtix.com.au
Sunday 14 October Capitol. Perth
Tickets: www.oztix.com.au
Comments
comments