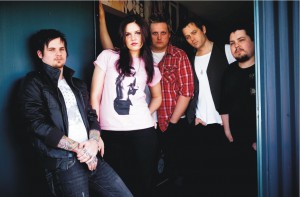 From Official Bio:  Verusive formed in 2010 on the Gold Coast, erupting onto the Australian music scene with their explosive live shows. With a fusion of formidable heavy-hitting sounds and commanding emotive vocals colliding in every energetic performance, Verusive deliver infectious rock with influences ranging from Paramore & Evanescence to Foo Fighters & Metallica.
Verusive are re-releasing their debut EP "Epic" after selling out of the first pressing off the back of the groundswell from their recent live shows and new airplay rotation on rock station Rebel FM for the single "Save Myself". The video for "Save Myself" has had 5000+ views on YouTube. "Epic" is available at gigs, via the bands website & on iTunes.
Over the past two years Verusive has been amassing a legion of loyal fans at many local gigs and several East Coast tours including shows at Sydney's Annandale Hotel & Brisbane's Hi-Fi, SCoRCHeR FeST and Wallapalooza Festivals, who will be pumped to see the band announcing new East Coast dates shortly.
Recently the Hard Rock Cafe brand worldwide ran a battle of the bands compeition to win the chance to play at 'Hard Rock Rising' in London where the legendary Bruce Springsteen will headline. One of those bands in Australia with a chance of winning the Hard Rock Rising competition is Verusive from the Gold Coast who took out the comp at the Sydney Hard Rock.  You can vote for them by clicking HERE and who knows what may happen for these rockers?!
We wanted to give them some love and hopefully throw some votes their way if you like what you hear… we give you Verusive
Let's start with the basics first – for those that aren't aware of the band, what brought the band together and what is the inspiration behind the band name?
Verusive came together piece by piece over a period of about 2 years. I say that because our newest addition Robbie Belford on bass only joined us a couple of months ago! We may have been united by the musical gods… Just a theory…
The name Verusive is kind of a culmination of several different band names we couldn't decide on at the time. I wish there was a more interesting story but that's it! I think Verusive is something completely original and we like that 🙂
You have twenty seconds in an elevator to try and convince someone to listen to your music, what do you tell them?
I may just start voluntarily singing to them, then they have no choice but to listen! I do carry around a bunch of stickers with me that we give to random people, or we tastefully stick them up in places on our travels. Everyone likes stickers.
Can you introduce each member of your band and give us a rock 'n' roll fact or myth about each of them?
Corey De Luka (guitar virtuoso) may possibly be the love child of rock god Jimmy Page.
Tony Valentine (heartthrob/rhythm guitar) no, he's not the guy from Good Charlotte but if you look close enough you might find Wally.
Robbie Belford (lead bass guitar) head choreographer for LMAFO and apparently does a mad impression of Austin Powers!
Matt 'goes with the' Flo Howard (beater of drums) likes cake, is good mates with Dave Gleeson (Screaming Jets), likes to name drop… no not really 🙂
And myself Clare Nella (vox/lyricist) so awkwardly 'un' rock n roll you might find it endearing…?  First ever concert was Chingy, and yes, I WAS a fan of the Spice Girls.
As a finalist in the Hard Rock Rising competition where you could possibly be supporting Bruce Springsteen, among others, here's your chance for a sales pitch, why should people vote for you?
Because we're Australian! Why wouldn't you want to see the most exciting and entertaining Rock band in Australia representing us Aussies in England? POW!
Honestly we just really hope that our friends and fans will back us all the way in this competition because we would love to give the world a taste of what we're made of!
Looking at the big picture, if you were to win, what would be the one thing you'd take from the whole experience?
Haha Robbie: hotel room soaps, mini bar drinks and thousands of new fans!!!! – I'd have to agree!
Now for those that haven't yet seen you perform before, what can people expect from one of your live shows?
Lots of energy and sweaty good times!
Your EP is currently available, but you have been working on your debut album, when can we expect to hear the end result?
Yes, our EP is available for download on iTunes (shameless plug). We're planning the release of our album later this year after a few tweaks and the addition of two brand new tracks!! So we'll be heading back into the studio at the end of this month to lay down the new additions and get it all happening.
You also have a guest on the album, being Jeff Martin of The Tea Party fame, how did you get him involved and how was it having someone like him sing on one of your songs?
Musical gods… Although he could be one of them himself! It was mostly such a buzz watching him at work in the studio. Definitely somebody to just observe and learn from at such an early stage of our careers, and he was very happy to share some of his wisdom!
In terms of your song writing, what do you consider to be the most important ingredients that make up a Verusive song?
Some bitchin beats, sexy bass, a killer riff and hooky hooks! It's important to stay honest, it's all about making that connection with our audience so when they hear our music they can relate to it in their own way.
Both lyrically and musically, what or who inspires/influences your music the most?
Our sound is strongly inspired by bands like Evanescence, Paramore and the Foo Fighters. We all individually have very different musical influences though from CC DeVille (Poison) and Motley Crue to Fall Out Boy, Red Jumpsuit Apparatus and Tonight Alive. Lyrically I pull inspiration from life. Whether it be a mood I'm in, some traumatic event I'm going through or just something strange and interesting that I might see or hear I generally just start writing about it and want to turn it into a song.
You get to pick 3 bands to play live with, what would be your dream bill?
It's hard to just choose 3… Probably Evanescence, Foo Fighters and maybe Motley Crue just for the epic stage show!
Lastly, here's a chance to gaze into your crystal ball.  By the end of 2012, Verusive will have:
1.  Thousands of new fans!! (like us on Facebook)
2. Sold out shows, maybe even hit the US for a tour.
3.Rockin good times!
Essential Information
From: Gold Coast, Australia
Sounds like: Rock/Alternative Rock
Band members: Clare Nella – Vocals, Corey De Luka – Lead Guitar, Tony Valentine – Rhythm Guitar, Matt 'Flo' Howard – Drums, Robbie Belford – Bass
Website: www.verusive.com and www.facebook.com/verusive
Check out Verusive on iTunes here
You can vote for Verusive by clicking on the banner below…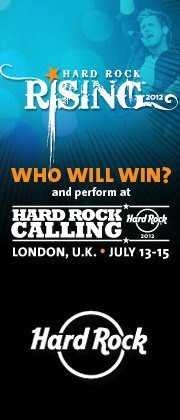 Comments
comments