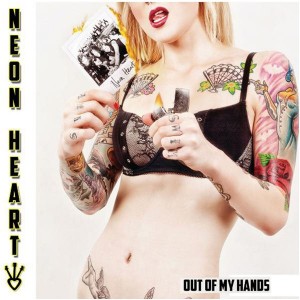 Official Bio: "Put away the Laptop, There's no computer music here!  Neon Heart are a five-piece, award-winning, guitar based, original rock band from Sydney. Their point of difference is their stage show; they engage with the audience, aren't afraid to take chances, and make every gig memorable.  It's hard to be unique when you're a guitar based rock band in Sydney; it seems every band has the same cookie cutter approach.  But Neon Heart has figured out how to break away from the pack with their energetic performances and powerful song writing.
Neon Heart is : Ben Nas on lead vocals and Train Whistle; Matt Clark on Lead Guitar and offstage antics; Tim Clark on Bass and power stance; Ad Michaels on Rhythm Guitar and ink; Dan Neil on Sticks and Skins. Having already released one self titled EP they have just unleashed new EP Out Of My Hands.  Recorded at the legendary 'Big Jesus Burger studios' in Sydney, Australia. With producer Evan McHugh (Jet, The vines) the new record is sure to impress even the hardest of critics."
Let's start with the basics first, when did the first band get together and what was the inspiration behind the band name Neon Heart?
It was back in the early days of 2008, Katy Perry was singing about Kissing Girls and Beyonce about all these single ladies.  We saw an opening in the getting with ladies department and thought how is the best way to take advantage of this abundance, start a Rock 'n' Roll band?  How wrong we were!  The name comes from what we thought would be a good name for a Strip Club.
Can you introduce each member of the band and give us a rock 'n' roll fact or myth about each?
Ben (Vocals) – Can complete Rubix cube in 2 minutes flat, 1:30 if naked.
Matt (Lead Guitar) – Exceptional Kazoo player.
Adam (Guitar) – Was used as the female lower half for 1st EP's cover art.
Tim (Bass) – Never wears shoes when walking on Persian Rugs.
Dan (Drums) – Can only walk at 130bpm.
You have twenty seconds in an elevator to try and convince someone to listen to your new EP, without resorting to threats or violence, what do you tell them?
Listen to our EP and you will instantly become more attractive to the opposite sex, or same sex (we don't judge).
Speaking of your EP, looking back on the whole process of creating it, what did you find to be the most enjoyable aspects of the journey?
Whilst recording, anyone who left a mobile device unlocked was bound to get hacked and also some sort of God Forsaken image as their background.
In terms of song writing, what do you consider to be the most important ingredients that need to feature in a Neon Heart song?
It comes at a close tie between killer guitar riffs vs killer vocal hooks.
Over the course of the bands evolution, what or who have you found inspires and influences your music the most, in both a lyrical and musical sense?
Try to make everything a Party.
Hypothetically speaking of course, if you could travel back in time (or into the future even, say tomorrow….) and play your music to any one of your musical heroes, who would it be and why?
Hypothetically? We can! John Bonham loves our Shit..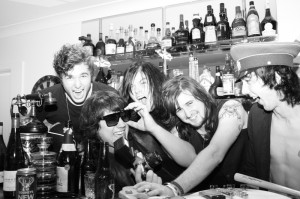 So if you were asked to have your music featured in the soundtrack of a movie, what kind of movie do you think it would likely to be for?
A ROMCOM – with Zac Effron and Rachael McAdams.
If you were a person in the crowd at one of your gigs, what five words would you walk away using to describe the performance you just witnessed?
Probably Stay Home Next Time.
Gigs, gigs, gigs…do Neon Heart have any coming up that you wanted to tell the people about, if so here's your chance!
Hell Yes – The 19th April @ The Annandale, and the 20th April @ The Square.
With 2012 already a couple of months down, here's a chance to gaze into your crystal ball. By the end of 2012, Neon Heart will have:
1): A Manager, to do all the stuff we don't want to do.
2) Boats and
3) Hoes
Check out our review of the Neon Heart EP 'Out Of My Hands' right here…
Essential Information
From: Sydney, Australia
Sounds like: Rock, party rock!
Band members: Benny 'Danger' Nas- Vocals, Matt Clark- Guitar, Dan Neil- Drums, Tim Clark- Bass, Ad Michaels-Guitar
Website: www.neonheart.com.au
Latest release: Out Of My Hands EP (2012)
Tour dates: 19th April @ The Annandale, and the 20th April @ The Square
Comments
comments