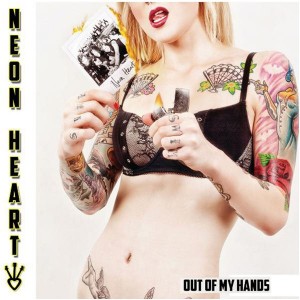 In 25 words or less: "With enough rock chops to mix it with the hard rockers, they have enough catchiness and hooks for those who simply appreciate catchy rock."
Sydney rockers Neon Heart have been plying their craft for a few years now and on this their second EP, they deliver five tracks of some pretty addictive kick ass rock.  Basing their reputation upon their energetic live show, (which being from Melbourne, I haven't had the opportunity of witnessing yet) Out Of My Hands certainly sets about trying to catch that raw energy and live feel on disc.
The double shot of "fire" that opens up the EP, namely Wildfire and Ready Aim Fire have the raucous big riffs reminiscent of bands such as The Cult and The Darkness, but at the heart of each song are some killer hooks and a big stick in your head chorus.  Where Neon Heart delivers their own "personality" is on songs like Silver Lining, which drops the raw intensity down a notch and hits you with a bouncy and instantly familiar catchiness.  Tonight takes things into another direction, with a largely acoustic and piano based ballad that gradually builds and builds, it's not your a'typical power ballad in the true 80's sense, it's a little quirky and there's some pretty cool vocal harmonies and multiple key changes at the end that remind me a little of the band Jellyfish.  Closing track Psycho Ex-Girlfriend From Hell almost best sums up Neon Heart, even when delivering a track with a title such as this and with an EP cover as it is, you could be forgiven for expecting an all out, straight from the gutter, sleazy, filth infested track…but it's not, again it's got this undeniable catchiness and it's own little Neon Heart "quirkiness" that comes from song arrangement and vocal harmonies.
Neon Heart are an interesting proposition, with enough rock chops to mix it with the hard rockers, they equally have enough catchiness and hooks to appeal to those who simply appreciate catchy rock, but aren't necessarily into the whole gamut of hard rock.  Support Aussie rock and live music, go check out Neon Heart when they hit a town near you…or if they don't, buy the EP!
Check out our interview with Neon Heart right here…
Essential Information
For fans of: Rock and The Darkness
Release date: 24 February 2012
Produced by: Evan McHugh (Jet, The Vines)
Website: www.neonheart.com.au
Tracklisting:
Wildfire
Ready Aim Fire
Silver Lining
Tonight
Psycho Ex-Girlfriend From Hell
Comments
comments