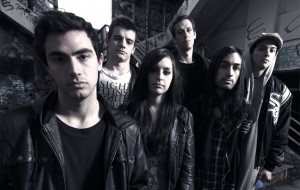 Perth's Make Them Suffer announce their national album launch tour and unveil lyric video for second single "Widower" from forthcoming album Neverbloom, out May 25th through Roadrunner Records Australia.
"Widower" is the follow up single from title track Neverbloom.  You can watch the new lyric video for the track below:
The official video for first single Neverbloom was released online recently, receiving over 14,000 views in the first 24 hours and over 60,000 views in under a month.
For those hungry to get their hands on the new album Neverbloom, pre-order it now HERE
There are a limited number of CD/t-Shirt packs and the t-Shirt design is only made available as part of the pre order only. All pre order purchases will go into the draw to win an amazing prize pack including an Ibanez electric guitar, a pair of Macbeth shoes and a Monster Energy merch pack.
With anticipation building for the band's debut album, Make Them Suffer will embark on a two month national tour kicking off June 2 – full details below.
MAKE THEM SUFFER – NEVERBLOOM TOUR 2012
Saturday 2 June – Amplifier, Perth WA (18+) with In Hearts Wake
Sunday 3 June – YMCA HQ, Perth WA (AA) with In Hearts Wake
Thursday 28 June – Karova Lounge, Ballarat VIC (18+)
Friday 29 June – Black Market, Adelaide SA (18+) with Far West Battlefront
Saturday 20 June – Bang, Melbourne VIC (18+) with Boris The Blade and Brooklyn
Sunday 1 July – Phoneix Youth Centre, Footscray VIC (AA) with Brooklyn
Tuesday 8 July – Musicman Megastore, Bendigo VIC (AA) with Brooklyn with Brooklyn
Wednesday 4 July – Tuggeranong Youth Centre, Canberra ACT (AA) with Resist The Thought
Thursday 5 July – Hot Damn, Sydney VIC (18+)
Friday 6 July – Youth Centre, Manly NSW (AA) with Buried In Verona
Saturday 7 July – Unanderra Community Centre, Wollongong NSW (AA) with Buried In Verona
Sunday 8 July – Flynn's Beach, Port Macquarie NSW (AA) with Buried In Verona
Monday 9 July – Open Studio, Coffs Harbour NSW (AA) with Buried In Verona
Thursday 12 July – Snitch, Brisbane QLD (18+) with Aversions Crown
Friday 13 July – The Loft, Brisbane QLD (AA) with Aversions Crown
Saturday 14 July – Hungerford Hall, Nambour QLD (AA) with Aversions Crown
Sunday 15 July – Gladstone Tennis Club, Gladstone QLD (AA) with Aversions Crown
Catch Make Them Suffer executing their unique blend of modern extreme metal, neo-classical strings, dark piano lines, razor sharp riffing, crazy blast beats and roaring vocals.
The album Neverbloom is out on May 25 through Roadrunner Records.
facebook.com/makethemsufferau
au.roadrunnerrecords.com
Comments
comments