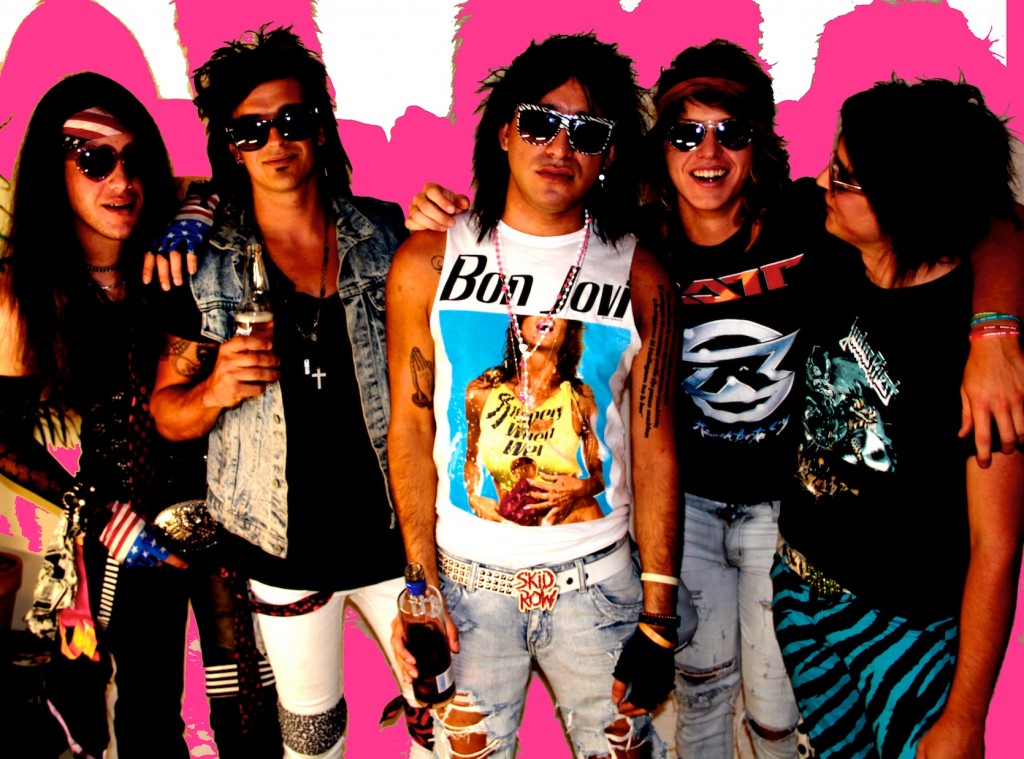 Now where the hell did De La Cruz come from?  Well Gold Coast, Queensland, Australia for starters…  Seemingly blazing onto the local scene late last year (2011) with their free downloadable EP clocking up over 50,000 downloads worldwide (click here to get your copy http://www.DeLaCruzOfficial.com/Music.html), things have literally exploded for the band.  Fast forward a few months and the band now find themselves with an album release scheduled for later this year on "THE" label for hard rock, melodic rock and AOR, Italian based Frontiers Records.  De La Cruz proudly wear their influences on their shirts and for anyone that has a love for bombastic, harder edged, melodic rock, then you are in for a treat with these guys.
We checked in with singer Roxxi Catalano to introduce us to the band and rest assured this won't be the last you will hear of De La Cruz on the pages of May The Rock Be With You…
Let's start with the basics first, when did the first band get together and how would you describe the music of De La Cruz?
Well I'm originally from New Zealand, Casey was doing his solo guitarist/MySpace thing at the time and I had been slaving away in dead end bands for years and was going through band members at a rate of knots just trying to find the right lineup.  Funnily enough the first song of his I ever heard was the instrumental version of Back To The 80's, I was blown away by his playing and tone and at that moment I knew that we would start a band one day.  His site also mentioned that he was looking for a rock singer! I messaged him and said 'Is that you playing on those tracks?' and he said 'Yeah man, why??' and I was like 'I'm your lead singer!!' and………..he blocked me!!! haha. So I got one of my girl mates to hit him up and subsequently he listened to my demos I linked him to and responded 'Fxck man, you're the singer I need, how soon can you come to Australia?!'  Well that was in 2007 haha…as fate would have it I didn't make the move over until 2011, but during that time through a dude Kelli, we were able to secure our mad drummer Lacey who made the move up to the Gold Coast from Bendigo.  We finished our lineup with our sweet riffer R.J on guitar and Mr Grant Daniel on bass…..10 months later we've signed to a big Euro label, what the fxck?
Can you introduce each member of the band and give us a rock 'n' roll fact or myth about each?
Casey Jones, has done well, considering his poor guitar skills! A little known fact would have to be that he does a good BBQ and makes a killer steak sandwich and also seems to always have a beer in his hand.  Fact, first time me and Casey met we got in a fight haha!
Lacey Lane, the cosmic starchild haha, a fact would be that he has an explosive reaction to Chilli Tuna, it's his kryptonite.  If any opposing drummer wants to take him down then spike his drink with some of that and it'll be goodnight nurse!!  His midnight piano lessons on spaghetti night are legendary too….
R.J, is like the yoda of the band, me and Casey are constantly at war over pretty much everything to do with the creative musical process haha and when in doubt we seek the soothing wise-counsel of R.J.  No shit, he has the final say on a lot of things because me and Case are too volatile haha!  A fact is that me and R.J can NOT do Simon and Garfunkel harmonies, no matter how hard we try at 5.30am after an all night bender!
Grant has more clothes than the Queen of England and probably some of them that she'd be envious of!  If it was once living and is now a piece of clothing, then Grant probably has it, no shit, the only guy I know that instantly thinks of boots when he sees a python!!  Fact, he runs entirely on fastfood and as such is something of a connoisseur, if it isn't deep-fried he wont go near it!
You have twenty seconds in an elevator to try and convince someone to listen to your new music, without resorting to threats or violence, what do you tell them?
That by listening to our music you will instantly gain 10billion rad points and have supernatural powers over the opposite sex!  You will become so cool that people will make you hold their beers to keep em chillin' like a villain!!
What or who inspires and influences your music the most, in both a lyrical and musical sense?
We all have such a varied taste in music, originally me and Casey were brought together by our love of bands like Ratt, Dokken, Lynch Mob etc.  Me personally, I'm a product of many ingredients, rock-wise I love everything from Def Leppard, Whitesnake, Skid Row, Firehouse, Vinnie Vincent Invasion thru to bands like Kyuss, Unida, The Quill, Alice in Chains etc…
Lacey brought in his love/obsession of bands like Motley Crue, and glam revival acts like Wendy Icon, Dirty Penny, Crazy Lixx!
R.J is a monstrously HUGE Judas Priest, Van Halen and Iron Maiden fan and Grant, well to be honest Grants quite mysterious and I'm not completely sure of his influences, save to say they'll be rxckin!!
All in all, our influences all get piled into the pot and come out as DE LA CRUZ!!!
In terms of your song writing, what do you consider to be the most important ingredients that need to feature in a De La Cruz song?
Hooks!!!!! Melody, feeling, catchiness, memorable passages, phrases, riffs and movements!!  A good song you can hear once and 10 minutes later you can still recall a bit of it, a chorus or a riff.  Lack of hooks is the first failure of songs….
Is the process of songwriting a whole of band affair, or are there a few key contributors?
Traditionally I would come up with a core element (I can hear songs in my head 24/7 and it drives me fxckin mental) so maybe a hook, riff or chorus, then me and Casey sit down and he adds his spin on things, riffs, solos and interprets my parts, then as a group we all put in our addition to the guitars, drums and bass. That method is still in place and works brilliantly, but for the full-length it's a varied and a bit different.  With the S/T E.P, Casey and I had written the majority of it already in early 2011 and it was a matter of finding the lineup to play it and then as a unit fine tuning the original elements, this time we are going for a more democratic approach and there is a lot more group input, sounding rad so far!
Your 6 track EP has been available for free download since October and has racked up over 50,000 downloads from all over the world.  Have you been surprised by the reaction and international interest in the EP so far?
Totally dude!!  Nothing prepared us for how well it would do, we knew we were sitting on some pretty rad material but had no clue how far and wide it would spread!!
We owe our fans a big one on that, they've helped us out so much and so passionately and continue to support the shit outta us!! For an unheard of band to rack up that many downloads was pretty surreal for us and we are staying stoked!
You have recently just announced being signed to the mega label Frontiers Records for an album release in 2012?  So tell us how did an Aussie band attract the attention of an Italian label?  When are we likely to see your album release?
Yeah!! It's pretty fxckin crazy to be label-mates with acts like Whitesnake, Sebastian Bach, Crashdiet, Crazy Lixx, Lynch Mob, Dokken etc, it's a surreal feeling to be sitting here only 10 months since the band formed.  It's been kind of a domino type thing, our Self Titled E.P did well and attracted the attention of Classic Rock AOR Magazine who ran a full-page feature on us, we also had a track on the cover-mount CD 'Silk and Steel' and through this huge global exposure we were approached by a number of prominent record labels including the mighty Frontiers Records!  We are working hard on writing and demoing our full length album, I can't give any dates but it'll be released within the year so hold on tight as a tiger!!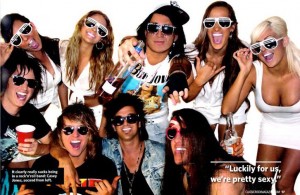 You have already released two video clips for the tracks "Lust, Fame, Money" and "Back To The 80's", which is 2 more than many established bands have released!  Was the visual image of the band something you were keen to share via way of video in helping to really stamp what De La Cruz is all about?
The videos we just did for fun really and of course for exposure, but really they were something that we had the ability to do so we did them!  Oh dude, your visual image is something that is different and calculated, it's who we are and something we have received a lot of controversy over.  End of the day we are just normal guys that like hot girls, cold beers, partying, the beach, summer nights, good times and also happen to absolutely love the shit outta 80s rxck n roll!!  Somewhere in the 90's there seems to have been installed in the rock world this often apparent stereotype and myth that if you don't wear all black, boots and chains etc then you cant be a true die-hard rocker or metaller.  Well that's all bullshit and if you look back at the 80's bands like Anthrax and even early Metallica, sick bands like Suicidal Tendencies, Guns n Roses etc they all wore stonewashed denim, colours, hi-top basketball kicks, flat peak caps.  Don't get me wrong though, man I love wearing all black, I fxckin love bands like W.A.S.P etc but I just don't think its an unavoidable necessity that dictates your rock credibility!  Basically we wear what we want, we aren't going to pretend to be anything we aren't and furthermore we just want to make rad arena-rock music, the music we love and to make it accessible to absolutely anybody!!
What kind of movie soundtrack do you think your music is suited too?
Probably something street level like Point Break, or maybe even a vibe like Fast Times At Ridgemont High.  Something rad and feelgood with babes and partying and action!! Maybe including laser guns and sharks too, that would be sweet dude!
If you were a person in the crowd at one of your gigs, what five words would you walk away using to describe the performance you just witnessed?
Rad guitar work, unnecessary high screams, beer, excessive stick twirls from our drummer!!
You hail from the Gold Coast, how would you describe the live rock scene there at the moment…is there a thriving bunch of bands playing similar styled hard rock to De La Cruz, or are you in the minority?
I'd have to say that the rock scene isn't amazing with regard to amount of live venues etc but I'll admit there are a lot of great bands of various genres locally with a lot of passion punching out some awesome live shows and working hard on the local circuit!!  Nobody is playing similar style music to us, we are in a kind of grey zone, we aren't pop, we aren't indie, we aren't heavy metal, we aren't classic rock n roll and we aren't hardcore, we are De La Cruz, its a tough one.
With 2012 now being a few months old, here's a chance to gaze into your crystal ball. By the end of 2012, De La Cruz will have:
1. An international tour on the cards, we will hit Europe festivals at some stage
2. A killer full length album invading peoples frontal lobes!
3. A whole lot of fxckin rad memories and the chance to meet heaps of our fans!
Essential Information
From: Queensland, Australia
Sounds like: "Back to the 80's", hard rock that is…
Band members: Roxxi Catalano – Vox, Casey Jones – Guitar, Rory Joy – Guitar, Grant Daniell – Bass, Lacey Lane – Drums
Website: www.DeLaCruzOfficial.com
Latest release: Check out the following link and download their EP…. http://www.DeLaCruzOfficial.com/Music.html
Comments
comments