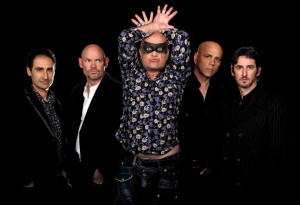 April is going to be an exciting month for all you Victorian Chocolate Starfish fans… the time has finally come. If you've been waiting to revisit your youth and party like you don't have a care in the world then put these dates in your rolodex!!!
Friday 20th April – York on Lilydale (doors open at 8pm)
Saturday 21st April – Chelsea Heights Hotel (doors open at 8pm)
Friday 27th April – Mac's Hotel, Melton (doors open at 8pm)
Saturday 28th April – Commercial Hotel (doors open at 8pm)
Tickets from $30 through Ticket master
www.chocolatestarfish.com.au   www.liveatyourlocal.com.au
Chocolate Starfish were acclaimed as simply "the best live band of their era".
It was the 1990′s and the Starfish were very busy selling 250,000 records locally, selling out countless tours of the country's biggest venues whilst subverting radio and TV with their many hit songs.  "You're So Vain" and "Mountain" were both national ARIA Top 10 hits and certified gold singles. The self-titled debut album sold in excess of 100,000 copies, debuted at #2 on the ARIA album chart and was certified Platinum. It also contained 3 more ARIA Top 30 singles.  Starfish's second album box debuted at #5 nationally and contained 3 more Top 40 singles.
Led by the charismatic front man and vocalist Adam Thompson, and backed by the tightest and most dynamic band in the land, Chocolate Starfish won an Australian Music Award for "Best Album" in 1994 for the self-titled debut release. They were also nominated for many ARIA Awards.