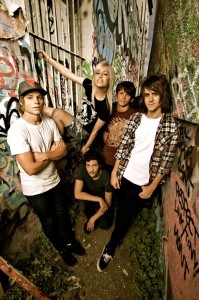 Sony Music Australia is excited to announce the debut album from pop-punk band  Tonight Alive, What Are You So Scared Of?,  which is set for release on October 14th  2011.
Tonight Alive recorded the album in LA earlier this year with respected producer Mark Trombino (Blink 182, Jimmy Eat World) at LA's infamous NRG Studios. The first single 'Starlight' is at radio now and has been added to the Nova network nationally. The accompanying video, filmed in one of the band member's garages, has received a lot of attention online and upon release #tonightalive and #starlight both became trending topics on twitter. The online world has played a pivotal role in the band's success with their independent video for Wasting Away garnering over 275,000 view s on youtube.
So, why the title What Are You So Scared Of? "It's the only question I can ever ask myself where I'll always have an answer," explains frontwoman Jenna. "Asking myself, 'what are you so scared of?' has always helped me pass through any personal fear or doubt. And it's summed up the last year for us as a band – we've broken new boundaries'
"What Are You So Scared Of? is our mission statement, if you like – we're moving forward, dissolving old barriers or blocks."
The five piece band have built a creditable reputation within the industry having toured extensively with bands including; Sum 41, Forever The Sickest Kids and the Bamboozle festival alongside Lil' Wayne, Bruno Mars and Motley Crue. The band will hit the road again next week supporting Anberlin and then again with Simple Plan in September.
Before signing with Sony Music Australia the band released two self-funded, stellar EPs ('All Shapes & Disguises' and 'Consider This') and have worked hard at building a solid Australian and International fanbase with songs from the EPs featuring in American cult reality series The Hills and Keeping Up With The Kardashians.
TRACKLISTING
Eject, Eject, Eject!
Breaking & Entering
Starlight
Sure As Hell
Let It Land
Fake It
Listening
Reason To Sing
Safe & Sound
Thank You & Goodnight
Amelia
In The First Place
To Die For
What Are You So Scared Of?
Comments
comments