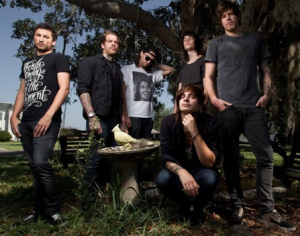 For Melbourne hardcore band Dream On, Dreamer, August is set to be the bands defining moment, with the worldwide release of their debut album Heartbound via international labels UNFD (Australia), Rise Records (North America, UK, Europe) and Triple Vision (Japan), as well as embarking on their first ever headline national tour.  Having recorded Heartbound in the USA with upcoming producer Cameron Mizell (Memphis May Fire, I See Stars, Woe Is Me) at his Florida studio, the band is set to return to the USA later in the year and have Europe dates confirmed for October.
We chatted with bass player Michael McLeod about the recording of the new album and what lies ahead in 2011 for Dream On, Dreamer.
Hey Michael McLeod, thanks for chatting with May The Rock Be With You! You have currently been busy playing a bunch of all ages shows around Victoria, how have those been going and have you snuck some of the new songs into your set?
Yes we have been, we are coming to the end of the all ages tour with Closure In Moscow and Awaken I Am.  This has been going really good, it's more of a rural tour with the country kids I guess.  It's been a lot of fun and crazy cold as it's randomly cold in some of these places.  We have been playing our debut single Downfall from our debut album and then we plan to put in a few more before the tour is over.
So has Downfall been getting a good reaction?
It's been getting a bit of a mixed reaction actually.  When we released the song, we also released details of our label choices and a lot of kids when they hear what labels you are working with, will automatically judge you.  Which a lot of kids have unfortunately done, so in our case based upon one track off a whole 10 track album.  I hope they at least give the whole album a go before they start labelling us or saying whether they like the new sound or not.
In August you are headed out on your first headline national tour, that must be some exciting times coming up!
We are all gearing up at the moment getting the setlist ready and heading out with our friends The Bride and Hands Like Houses and playing the new material as well.  We haven't really had a massive chance since being back playing live shows, to play at all.
In October you are off to Europe for about 30 shows, are you going to get a chance to play any shows in Germany where your singer Marcel is from?
We are really excited to be heading overseas to Europe for our first international shows.  I almost fell off my seat when I found out about that, so we are really, really excited to see what comes of everything.  We are playing in Germany, so Marcel gets to head home and show his mates and family what he's been doing and what he has given up to get there.  He came to Australia not knowing many people and risking it all to better himself in the music industry.  So to come back to Germany and show his family and friends what he has achieved will be pretty surreal.
You are very soon about to release your first album Heartbound which I am sure you can't wait to get out there. Heartbound is also getting a worldwide release as well, which is awesome…
It's mind blowing to have the support of such influential and massive labels.  In the back of your mind we obviously want out debut album to do really, really well and to have those labels backing you up is great to know.
Heartbound the album title, what inspired that?
That was a lot of sleepless nights. We came up with that in the USA whilst we were recording and it was hard to come up with an album title that a lot of people will remember and to have 6 people agree on the one thing was quite a task.  We are happy what we ended up coming up with and we hope everyone else is too.
Lyrically what ground did you cover in this album?
It is a lot more personal than our Hope EP.  Marcel and myself have been through a lot in the last year, so we have been trying to bring a lot more personal messages with life I guess. Stuff about love and about how we see the world and how we want to see the world.  We hope that kids will go away and interpret the songs and whether they see things differently or know exactly what's going on.  For me, I have always heard songs and I've been like, wow he's singing exactly what I feel, I wish I could rewrite that song or have written it.  I suppose in a sense we hope kids can relate to the album.
When did you first start the writing process for the album?
I suppose a lot of kids when a new album hits the shelves think it's all brand new and exciting.  But for the bands concerned they have been working on this material for 6 months to a year or more.  So we are really exited to get this out and play live, but it's been something we have been involved with for about 6 to 8 months, since the writing stage.  This all starts in our guitarists studio and then we do a skeleton of the song.  Having 6 people in the band means a lot of decisions and back and forth to try and get what we all wanted and will be happy with at the end of the day.
When you are writing a Dream On Dreamer song, what do you think are the trademark ingredients?
I suppose the key ingredients would be all instruments, as we don't want to leave anyone out haha!  It's hard because Callan does pretty much all the writing of the songs and then they're given to each member, then they put their own spin on things.  So it's not so black and white, you want to get what you want in there and make sure everyone's happy.
How was the experience of working in Florida with Cameron, aside from maybe the sun haha…
It was pretty much an experience that is still a bit surreal.  Still to this day it's like, wow we went to America to record our debut album.  He has worked with a lot of bands we are fans of and he himself is a great producer and musician so it was all roses for us over there.
What led you to heading over to the USA, was Cameron the guy you had specifically targeted for this album…
We did try and stuck our fingers in a few pies there and we were amazed that Cam even wanted to work with us.  He has worked on some albums that we listen to ourselves and to have a producer who you are pretty stoked to be with was great.
How much of the recording had you done before heading over?
We had probably done about 4 to 6 months of work.  Callan actually runs a studio in the back of his home so we had done a lot of pre production and pretty much had everything we wanted to do done, all we had to do was get it to the States and work with Cam.  We are really happy with how it's all turned out and we did a lot of experimenting whilst we were in there, so all in all it was an experience we will never forget.
Compared to the experience of recording you EP's, how did you compare the experience of recording your full length album?
It's definitely a whole different thing as you have about 10 to 12 tracks you are working with and not all of them are going to be hit singles.  Yet with an EP, you are only working with 4 to 6 songs and it's a lot easier to get your hits on the EP, whereas an album you have to take it a lot more serious and work to get all the songs the way you want and also different.  We didn't want a CD that sounded from Track 1 to Track 10 like it was 1 track mixed together.  So we did take it a lot more serious and there was a bit of pressure given our name is getting out there and we had such a great response with the Hope EP and we wanted to back that up with hopefully a high quality album!
You have now released a couple of high quality video clips for your singles, is this visual representing something you place high importance on?
A lot of the kids are so different, even the way people learn, whether it be visually, or hands on or by listening to things.  That's what we were trying to tick the boxes with a visual aspect and a listening aspect.  So that's where we took the path with video clips in the past and we have had a lot of fun doing them, I suppose it adds that extra element to anything you release which is what we were going for.
Here's a chance to describe the Dream On Dreamer live experience, how would you describe your live show?
I would say it's an energetic show and we try and involve kids as much as we can.  There's nothing worse than going to a show and feel like you are there watching a 50 year old standing playing guitar.  You want to feel involved and we try to do that by getting everyone involved with clapping and singing and having a fun time and we have a fun time doing it as well.  If it's 5 or 500 kids, we will give it everything we've got.
What is it about Dream On Dreamer you feel differentiates you from the rest of the hardcore pack?
It's a hard thing to answer, I don't want to blow our own trumpet, but I suppose we try and relate to the kids.  Fans are everything to a band and for a musician to not give their fans the time of day is like shooting yourself in the foot.  We are willing to talk to anyone and everyone after a show or before the show or give them advice or whatever.  A lot of kids look up to you and the way you go about making them feel like a fan or a friend you have to do what you have to do.  I suppose we have worked hard and we aren't a band who has just popped up over night, we have years behind us.  We are giving it everything we can and taking it as far as we can!
Before we wrap this up, did you have any final words for all the Dream On, Dreamer fans out there….
Thanks for giving me the opportunity to chat with you and to anyone who has supported us or helped us get to where we are, we are forever grateful and we hope you continue to support us.  Keep an eye on our Facebook etc and we will hopefully be in your town soon!
Essential Information
From: Melbourne, Australia
Band Members: Marcel Gadacz – Vocals, Callan Orr – Guitar, Luke Domic – Guitar, Michael McLeod – Bass/ Vocals, Daniel Jungwirth – Keys, Aaron Fiocca – Drums
Websites: www.dreamondreamerband.com
Latest Release: Heartbound – (2011We Are United UNFD (AUS), Rise Records (USA/UK/EUR), Triple Vision (JAP))
Be sure to catch Dream On, Dreamer on their upcoming national tour and of course buy the new album on August 5th when released….
THE HEARTBOUND TOUR: with special guests The Bride and Hands Like Houses
TICKETS ON SALE NOW
Tuesday, August 16th – Billionaire, Brisbane 18+
Tickets available at the Door. Say Dream On Dreamer for cheaper entry.
Wednesday, August 17th – Sun Distortion, Brisbane AA (Public Holiday)
Tickets available from http://oztix.com.au and on the door
Thursday, August 18 – Hot Damn, Sydney 18+
Tickets available at the Door. Say Dream On Dreamer for cheaper entry.
Friday, August 19th – Campbelltown PCYC, Campbelltown AA
Tickets available from http://www.moshtix.com.au and on the door if available
Saturday, August 20th – Masonic Hall, Blacktown AA
Tickets available from http://www.moshtix.com.au and on the door if available
Sunday August 21st – Loudfest* @ Annandale Hotel, Sydney AA
With Buried in Verona, Sienna Skies, Resist The Thought, In Hearts Wake, Northlane, Endless Heights, Stories, Hearts Like Wolves.
*The Bride & Hands Like Houses will not be playing this date.
Tickets available from http://www.oztix.com.au and on the door if available.
Wednesday, August 24th – Tuggeranong Youth Centre, Canberra AA
Tickets available from http://www.oztix.com.au and on the door if available
Friday August 26th – The Evelyn Hotel, Melbourne 18+
Tickets available from http://www.oztix.com.au and on the door if available
Saturday August 27th – Old Gaol, Mt Gambier Lic AA Doors @ 6pm
With Lake Nyos, A Dead Silence and Admella
Tickets available via http://www.oztix.com.au and on the door if available
Sunday, August 28th – Higherground, Adelaide Lic AA Doors @ 4:30pm
With Lake Nyos, A Dead Silence and Graveyards
Tickets available via http://www.oztix.com.au and on the door if available
Comments
comments