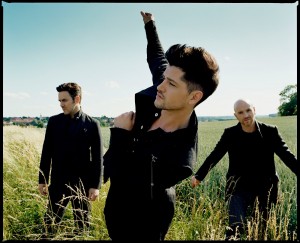 I remember seeing The Script back in 2008 when they came to Sydney on a promo tour in support of their debut album, playing in a small club to an attentive yet small crowd, just seeing them then you knew these guys had it. Now four years on and two albums and a couple of visits back since the debut it was time to see them again, I for one was ready and kinda pumped to see what they've been up to…
Support duties tonight went to Sinead Burgess who with simply an acoustic guitar and the voice of an angel warmed the crowd up with her catchy original songs and amazing acoustic cover of 'When You Were Young' by The Killers. At one point she got the crowd to stop talking and actually sing along which was great to hear. I for one will be looking out for more from Sinead and here's to the future. Check her out, I know I will be!
The Script are of course here to showcase their new album '#3' and they're showing us what it's all about from the first second as they blast straight in to the opening track from it 'Good Ol' Days' to an adoring very lucky crowd who snapped up tickets to this exclusive one off theatre show at The Metro in Sydney. 'We Cry' was the first taste Australia got of The Script in 2008 and with years of playing it, this song has now grown with the band and sounded great tonight.  Up next was newest single 'Hall of Fame' to an actually unbelievable reception. The chorus was sung back to the band as loud as the band at times and you could tell they loved every second of it (band and crowd). The new direction of The Script has been somewhat questioned but in this live environment it is so good and I'm glad to be hearing it this way. 'Science & Faith' the title track from their sophomore effort (I've always wanted to say that) with its killer intro, driving beat and catchy chorus was a favourite, and what a great version of a great song. Now my hearing is shot after years of gigs, but seriously, with the Irish accent, I honestly have no idea what the guys are saying up on stage half the time but the crowd are lapping it up and I just laughed when they did so I didn't look out of place, as an amazing crowd driven version of 'The Man Who Can't Be Moved' is performed there's seriously just something about an acapella crowd sing along that just gets me every time… this was one of those times.
This is seriously one hell of a showcase of the bands material tonight. 'Before The Worst' is up next and once again they can do no wrong. I guess when your show sells out in a matter of minutes you know that everyone here is here to see you and that's obvious tonight. These guys are so appreciative of the audience and 'If You Ever Come Back' once again blows them away with a chorus sing along. I love this song by the way, and they did it more justice than a supreme court tonight. Vocally The Script are flawless with their three part harmonies that are so well balanced and although, I must say that at times guitarist Mark Sheehan taking on vocal duties is that good that he could easily take the lead if required.
A drum solo intro from Glen Power to 'Talk You Down' was killer and I'm glad we're getting material from the debut, it's really cool to hear it revisited and see how they've grown. Time for another new one… 'Give The Love Around' with its very bass and synth driven groove showcases the bands somewhat new 'sound' but it's good. I have to say the Irish boys are good for a laugh though, singer Danny O'Donoghue takes a phone to sing one of my favourite tracks of the last couple of years in 'Nothing' and what a song it was tonight that truly took on a life if its own in this live environment. It was given a nice little rock makeover mid song, and man I have to say that these guys are tight musically.
A stunning acoustic version 'I'm Yours' helped to mostly silence the at times somewhat rowdy crowd, this to me was almost the stand out tonight and just showed to me and the adorning crowd that there is talent here tonight. 'Six Degrees of Separation' another newie from '#3' killed it, this is so good and is certainly a crowd favourite, who am I kidding? Most of the tracks have been tonight. I'm glad though that it hasn't been saturated with all new tracks tonight as many bands can do on these promo jaunts, so it's a perfect mix of all three albums in almost a 'Greatest & Latest' type vibe… A courageous Danny made his way through the crowd through 'You Won't Feel a Thing' as the band belted this song out like it was the last song they'd ever play. Superb.
Encore time.
Of course it's time for 'Breakeven' which is the bands biggest single (thanks Tim) and you can tell as the crowd know every word, every vocal inclination and it's awesome to be a part of. Oh and yes I'm one of those singing along, you can't not during this song. Ooh a new one this late in the set is risky but 'If You Could See Me Now' is happily received with its almost rap style verses taken on by Mark, this could easily be a single and should be. It's risky positioning for a new song, but a great win. What's left? Oh, of course… 'For The First Time' which was a perfect way to end an awesome night of live music to hear a collective 'oh these times are hard… etc' as the band left the stage but kept the crowd singing was something amazing to be a part of.
The Script can and will only get bigger and now with them announcing an Arena tour for Australia in April 2013, I'd make sure you check these guys out now that you have the chance, you won't regret it.
Essential Information
Venue: The Metro Theatre – Sydney
Date: September 24 2012
Supports: Sinead Burgess
Website: www.thescriptmusic.com
Set List:
Good Ol' Days
We Cry
Hall of fame
Science & Faith
The Man Who Can't Be Moved
Before the Worst
If You Ever Come Back
Talk You Down
Give the Love Around
Nothing
I'm Yours
Six Degrees of Separation
You Won't Feel a Thing
Breakeven
If You Could See Me Now
For The First Time
Check out the details of The Script's Arena tour of Australia in April 2013 here…