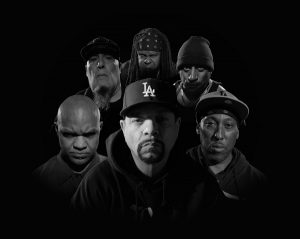 In under two weeks ICE-T'S BODY COUNT will tour Australia for their first Australian tour in 22 years supported by A.B. ORIGINAL and VOID OF VISION.
BODY COUNT will now play Big Top Luna Park on Saturday 3 June (no change of date) in Sydney. Tickets purchased for the Hordern Pavilion show are valid for Big Top Luna Park and will allow access to the General Admission Dance Floor area without the need for exchange.
Tickets for all shows are on sale now. Visit bodycountband.com for complete tour and ticketing details including Premium VIP packages.
BLOODLUST AUSTRALIAN TOUR DATES:
SUPPORTED BY A.B. ORIGINAL AND VOID OF VISION
TICKETS ON SALE NOW!
Enter the BODY COUNT social competition for your chance to win big! For your chance to win, like and share the below image on Facebook. Comment with your name, show attending and tag a Body Count fan. Winners will be drawn at random. The prize packs are:
The Grand Prize includes a Sound Check experience (including meet & greet & photo op with the band), signed lithograph, copy of Bloodlust vinyl and a Bloodlust tour t-shirt.
The Runner up Prizes are a signed lithograph OR Bloodlust tour t-shirt OR copies of Bloodlust CD/vinyl.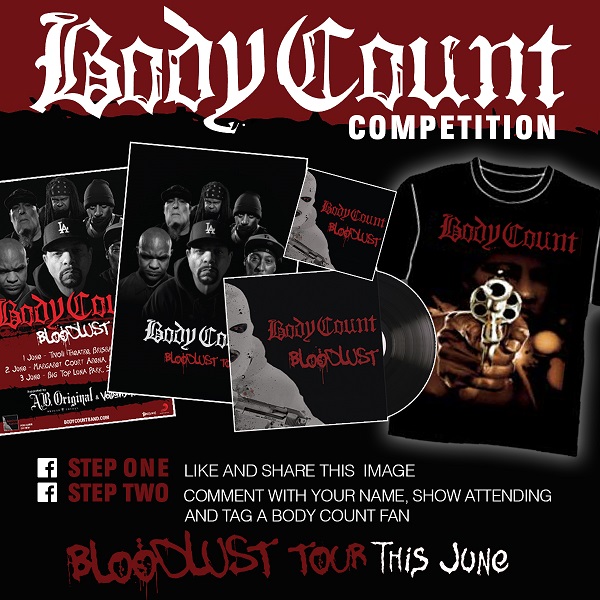 The Australian Bloodlust Tour will be the first BODY COUNT shows in the world to support the release of the new album, Bloodllust which debut at #12 on the ARIA album chart.
Ice-T says "We can't wait to come back to Australia! It's been over 20yrs… Don't miss this concert."
Bloodlust was released in March and features guest collaborations from Dave Mustaine (Megadeth), D. Randall Blythe (Lamb Of God) and Max Cavalera (Sepultura). The razor-sharp collection of social right hooks and body blows that paint a picture of an America in utter and complete shambles has had critics praising the record far and wide.
BODY COUNT, the gangster-metal collective that made music fearsome to mainstream America, their renegade track Cop Killer sending politicians, parents and law enforcement officials into a proverbial tailspin when it was released unto the world a quarter-century ago. That's not to say Ice-T and BODY COUNT have been silent over the past 25 years, but as Ice is quick to point out, you can't start a movement if people aren't willing to move.
BODY COUNT were born of a day when hip-hop was the soundtrack of the streets, brought to life by Bloods, Crips and gang bangers who lived and died by a code of street justice today's reality stars and internet wannabes can't begin to fathom. It wasn't the sound of middle class American kids playing dress-up and feeling fashionable. And heavy metal? It wasn't pretty and clean for mainstream America to swallow like a watered down shot with your favourite spray of sugary sweet soda as a chaser. Metal was about long hair, middle fingers and a vocal indifference to societal norms. Maybe we can blameBODY COUNT for how far we've fallen – after they united metal and hip-hop like napalm, politicians took note and launched careers around warning labels and lyrical witch hunts.
Comments
comments