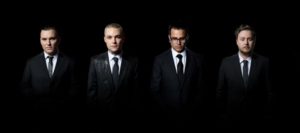 THE AMITY AFFLICTION's I Bring The Weather With Me Tour went on general sale at midday today with tickets selling out within minutes.
Second and FINAL shows have now been added to all cities on the tour: Melbourne, Sydney and Brisbane. There are no more shows to be added, this is your final chance to secure tickets.
Tickets are on sale now.
For complete details and ticket information, please visit: www.theamityaffliction.net/tour andwww.livenation.com.au.
After a massive arena tour in December 2015, these new dates will see The Amity Affliction getting up close and personal with their Australian fans in smaller and more intimate venues, taking them back to venues they haven't played in more than four years.
The tour announcement comes on the back of The Amity Affliction revealing details of their widely anticipated new album, THIS COULD BE HEARTBREAK. The platinum-certified Australian band's new LP will arrive on August 12 through Roadrunner Records. The band – Joel Birch [Vocals], Ahren Stringer [Bass, Vocals], Ryan Burt [Drums] and Dan Brown [Guitar] – detailed the new material in a recent press conference hosted by former Triple J radio host / Frenzal Rhomb guitarist, Lindsay McDougall which can be viewed on the band's Facebook.
The Amity Affliction will head to the UK where they will embark on a series of summer festival dates and headline shows with highly anticipated sets slated for the Slam Dunk Festival and Download Festival, before heading to Australia this August and onto a string of US festival dates in September.
THIS COULD BE HEARTBREAK is available now for pre-order in a variety of limited edition physical bundles via www.theamityaffliction.net.  All digital pre-orders will receive an instant download of the album's gripping first single, "I Bring The Weather With Me" which debuted last week along with the track's official music video.
TOUR DATES:
THE TIVOLI, BRISBANE
FRIDAY AUGUST 19  – sold out!
SATURDAY AUGUST 20  – second & final show
METRO THEATRE, SYDNEY
FRIDAY AUGUST 26  – sold out!
SATURDAY AUGUST 27  – second & final show
170 RUSSELL, MELBOURNE
WEDNESDAY AUGUST 31  – sold out!
FRIDAY SEPTEMBER 2  – second & final show
TICKETS ON SALE NOW
For more information:
www.theamityaffliction.net
www.facebook.com/theamityafflictionofficial
www.twitter.com/amityaffliction
www.roadrunnerrecords.com
For tour and ticketing details, visit: www.livenation.com.au
Comments
comments