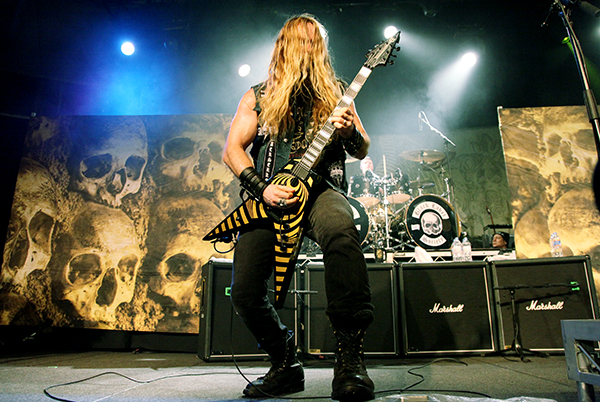 Tonight Taylor Swift returns to Australia and wait… There's another gig on in Sydney tonight and that's exactly where we are… thankfully… It's been a long time between tours for Zakk Wylde and his Black Label Society, so after almost six years they're back, and as the merch says they're 'forged in iron and built to destroy…' and we can't wait.
Support band Bare Bones were good and after what felt like a shaky start sound wise they warmed the ever growing crowd up, but when they busted out a cover of Metallica's 'Enter Sandman' they did it pretty well and had a great crowd watching them in the end. I dug their sound, so will check them out, you should too.
The bass solo sound check of 'Mary had a Little Lamb' was something to get everyone pumped as the Roundhouse starts to fill up nicely from those that chose to stay outside during the support, it's actually getting quite warm in here now and just about to get hotter.
A nice Led Zep / Sabbath mash up is our intro tonight and as Zakk Wylde's Black Label Society blast onto the stage it truly is 'The Beginning… At Last' and it's funny watching crowds these days as Zakk throws his guitar behind his head a mixture of rock horns and phones go up to celebrate and capture this moment. Man it's just a treat to watch this man play guitar and the huge heavy riff of 'Funeral Bell' kicks it off and the rhythm section of John DeServio and Jeff Fabb really drive this one in nicely. OK so I refuse to talk through every solo because that could get tiresome but holy shit what this man can do is astounding. His right hand may as well be a fucking hummingbird it moves that damn fast, it's unbelievable to watch.
'Bleed For Me' is an early favourite and has fists thrust in the air as this even chunkier riff destroys the place, and I love that as a four piece this band can make this sound this big, it's massive. Zakk beats his chest and brought it right the fuck down as the fade out leads into 'Heart of Darkness' which slayed but 'Suicide Messiah' has a couple of dudes in front of me stomping around and is always fun to see people really get into the music. Ooh musically I love where this one just went, almost a key change mid song but not, "oh yeah" indeed.
'My Dying Time' you could almost say slows the set down a tiny bit with another almost laughable at how good it is guitar solo, it keeps it heavy and is another that blends straight into the next as we 'Damn The Flood' which gets and feels like a whole lot of soul put into this one but not as much as what's happening now… The band leaves the stage apart from Zakk to leave him to just show off that ridiculous talent of his with a guitar solo. I have no idea how he does half the stuff he can do but I'm thankful he can do it because it's damn entertaining, he's just out of this world. The band return to the stage to blow the roof off once again with the heavier than the others 'Godspeed Hellbound' which breaks down in the middle to an almost haunting take but that lasted about a minute before the solo hits.
"Can you dig it?" We get the greatest band introductions ever and if you don't know how funny Zakk is check out our recent interview with him, but we all get roided up and there's love for the Sydney chapter here tonight. I just wanted to really make mention of this brotherhood up on stage, there is no fake personas here, what Zakk shows is love for his bandmates, it's reciprocated and also showered and shared with everyone here. This band loves their fans and it shows.
NOW they slow it down for 'Angel of Mercy' and it's great to hear this side of the band and the way they can deliver the huge riffs and metal rockers to this dare I say ballad… I'm watching as Zakk takes stance ready for his close up… This one I will talk about as it's heartfelt and it's so good to hear him solo on a song like this. What a killer track that is. Are you kidding me? He plays the piano too? Geez… Is there anything he can't do? Stay tuned this summer for Zakk Wylde's new cooking show 'Wylde Treats' but until then let's listen to 'In This River' that keeps it on the slower side but what it does as Zakk sits behind the keys is let Dario Lorina take on the guitar solo which was cool. Now with 'The Blessed Hellride' the guitar is back on for a middle of the road rocker that picks a side of the road and hits the gas and as it ends he holds his guitar high, kisses it and beats his chest. He has so much love and respect for his instrument.
'Concrete Jungle' turns it way back up and with a note for note harmony guitar solo it just proves the talent in the band is outstanding. They haven't dropped a note all night, it's a seriously impressive machine they run. There's only one more tonight and it's 'Stillborn' with an "are you ready?" it's on and as they deliver the perfect closer, the rousing applause and cheers for this ninety minutes of Black Label Society was truly warranted. Zakk once again holds his guitar high, beats his chest and gives a sincere thank you to the Sydney chapter.
So even though there were no Steel Dragon classics thrown in for good measure, they weren't needed as what we got tonight was everything those here wanted, a loud, heavy performance from Zakk Wylde and his Black Label Society. I know my ears will be ringing for days and I'm more than Ok with that. SDMF.
Once you go Zakk you never go back…
Essential Information
Venue: The Roundhouse – Sydney
Presented by: Destroy All Lines & Chugg Entertainment
Support: Bare Bones
Date: November 28, 2015
Website: http://www.zakkwylde.com
Photo by: Annette Geneva – Full gallery HERE
Set List:
The Beginning… At Last
Funeral Bell
Bleed for Me
Heart of Darkness
Suicide Messiah
My Dying Time
Guitar Solo
Damn the Flood
Godspeed Hell Bound
Angel of Mercy
In This River
The Blessed Hellride
Concrete Jungle
Stillborn
Comments
comments