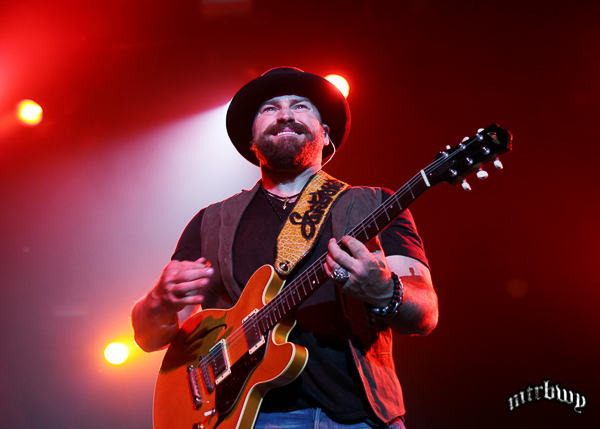 After enduring the world's seventeenth longest line to get into the venue, this country loving crowd have turned out in droves to catch one of the best live bands I've ever seen in the Zac Brown Band. Now the last time we saw ZBB back in 2013 I was blown away so tonight I'm looking forward to seeing the band in their headlining glory so what can they do this time to impress me even more.
I've made it in for only a few songs of Dispatch's set and this bluesy roots band sound great. Through songs about flags and merry go rounds their harmonies are on point and they can play! I wish I'd been able to see more of their set, but what I did see I thoroughly enjoyed.
Lights go down to a few 'yee haws' and a lot of cheering as all forty six members of the band take the stage. Kidding it's only eight but still… as they open with the one I thought they would 'Uncaged', not only is it awesome and showcases instantly how good this band is musically and set up the night perfectly, sweet they just busted into 'Kashmir' by Led Zeppelin and this is just crazy good, I always love when bands put their take on classic songs and oh wow no sooner do I say that, and I expected this next one but no way did I expect it this early… Their cover of 'The Devil Went Down To Georgia' was actually my first introduction to the band and actually hearing it live is something special and the fiddle work from Jimmy De Martini is something to behold as if there's one song that's not easy to cover it's this one and let's not even mention the ridiculous acoustic guitar work by Zac. Charlie Daniels would be proud and if the reception they just got for that one stays up then this is going to be one hell of a night.
A brand new one in 'Homegrown ' brings the band down to a middle of the road rocker as a dude taller than me just came and stood right in front of me, thanks champ!! They keep the tempo down for another slower one that gets the crowd singing along with 'Sweet Annie' as the harmonies in this one remain flawless. Ooh time for 'Castaway' a brand new song only played once before and this is one of those ridiculously happy songs you'd hear on an island resort where they serve you drinks out of a coconut and as I say that they throw in a Bundaberg Rum reference to an adoring crowd obviously of pissheads ha ha. I do have to mention how much the crowd here love this band and know these tunes, it took the first few notes of 'As She's Walking Away' for the cheers and singing to happen and as it did early on with Kashmir this one allows other band members to have a bit of a sing. 'Keep Me In Mind' is another highlight but 'Knee Deep' got even more love and just looking around as to how much people enjoy these songs is amazing, there's just a whole lot of good vibes in here tonight.
Oh this one takes balls. Let's see what ZBB's version of 'Bohemian Rhapsody' is like and musically they smashed it!! Loved the take on this, Steve McTallguy in front of me loved it too as he acted it out which was fun to watch, but I must say they nailed a classic song and I feel like they could do just about any song and win. Oh this is fun, a bass solo but a bass solo that lead into my favourite ZBB song, you all know I'm partial to a big ballad and when 'Goodbye In Her Eyes' takes its place, I'm happy as it's played with the emotion it deserves and I'm happy. What a song. Time to get the tempo back up, 'Whiskey's Gone' without doubt had every foot in the place tapping along as they slayed it, 'Who Knows' keeps the level of funk up including some brilliant percussion work by Daniel De Los Reyes as well as a great musical interlude by the entire band as they don't miss one note, these are some absolutely amazing players. OK, now I do enjoy this kind of stuff, but it's going on a bit too long at this stage ha ha, but I won't discount the ridiculously amazing talent here at all.
Slowing it down again with 'Free' and then for a bit of fun with 'Toes' as a sea of phones come out to capture this one and the singalong was a whole lot of fun too. Oh I like this one, 'Day For The Dead' taken from 'the Grohl sessions' rocks the place up again which was welcomed! 'Colder Weather' is a perfect country ballad and judging by the reception it got, a lot of people here were waiting for this one and it got pretty much the best reception of the night thus far. Oh shit, ZBB just went metal. 'Heavy Is The Head' a track they have done with Chris Cornell for the forthcoming new album is chunky as all get up and I know I dug it that's for sure, but I feel like this one and every song preceding it was all that leading up to 'Chicken Fried' and you don't get more country than this tonight. As I've moved to the back to get away from Steve McTallguy who was well, that guy… I can now see the entire floor and watching them wave their arms, sing along and just be happy is something live music is all about and does to people. I know it's why I love it and will never stop loving it. Zac has just busted into another ridiculous acoustic guitar solo, man!! What the hell. Then the band leaves the stage…
As the concert novices start to leave only to then watch them be surprised when the band returns is always classic. Oh shit. They have just belted out 'Enter Sandman' bring this on and if Country Metal wasn't a thing, it now is. Zac Brown Band are a band you should see live, they were straight up Southern Rock and roll tonight and just so damned impressive.
Essential Information
Venue: The Hordern Pavilion – Sydney
Presented by: Chugg Entertainment
Support: Dispatch
Date: April 1, 2015
Website: http://www.zacbrownband.com
Photo by: Annette Geneva – check out our full gallery HERE
Set List:
Uncaged
Kashmir
The Devil Went Down to Georgia
Homegrown
Sweet Annie
Castaway
As She's Walking Away
Keep Me in Mind
Knee Deep
Bohemian Rhapsody
Goodbye in Her Eyes
Whiskey's Gone
Who Knows
Free / Into the Mystic
Toes
Day for the Dead
Colder Weather
Heavy Is the Head
Chicken Fried
Enter Sandman
Comments
comments