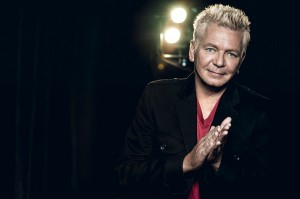 Iva Davies has plenty to celebrate today starting with ICEHOUSE's WHITE HEAT: 30 HITS compilation officially being awarded Platinum sales status. Davies took receipt of the Platinum discs at an intimate ceremony at Universal Music Australia who distribute the ICEHOUSE catalogue for Davies' Diva Records imprint*.
"I can't thank George, Liam, Shaun, Darren, Nadya and the UMA team enough for their support and encouragement," says Iva.  "WHITE HEAT went to Gold level sales quite quickly after its release and has been ticking away ever since with the company always looking for ways to spread the music further. In the current sales climate, I think they've done an amazing job so I'm extremely proud to accept this and put it with the other awards that mark different milestones in my life and the career of the band. This one is VERY special"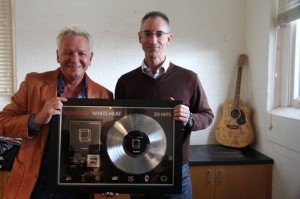 George Ash, President, Universal Music Asia Pacific, said ""Iva's music continues to fascinate audiences around the world and to see the band back playing to their new and established fans will be a dream for many. Few artists have been able to transcend the years and resonate with new audiences and Iva's ICEHOUSE is most definitely one of those special few. We couldn't be more excited for Iva on his Platinum award and seeing the band back doing what they do best, playing to adoring fans around the country"
In various interviews, Davies has attributed the continued steady sales of the 30 Hits compilation to the selective shows ICEHOUSE have performed over the past three years. These events – anywhere from small clubs to audiences of tens-of-thousands – have reinforced the band's reputation as a stunning live act. The songs are instantly recognisable to lifelong fans and to the new group of listeners who have found their way to ICEHOUSE in recent years.
And so to celebrate, ICEHOUSE will be performing some special concerts around the nation over the upcoming Spring and Summer that they are calling the Platinum Concert Series (see below for dates). The outdoor concerts will be announced by their respective promoters in July and August. Don't tell anyone but there is also talk of a few other special shows cropping up along the way.
Iva added, "Live is where we get to really know our fans better. The band members love mixing up the sizes of the venues and the performances so the Platinum Series gives us a chance to get around the country, play the songs everyone wants to sing along to and to throw in a few surprises."
To share the celebration with fans, the ICEHOUSE Fan Club and Facebook friends will be able to access tickets to various shows via a special code on Wednesday, 11 June which they will be notified of on the day. Tickets will go on sale to the general public at 9.00am local time on Monday, 16 June for available shows as below with more concerts to be announced in coming weeks.
ICEHOUSE
Platinum Concert Series
Special Guests: TBC
Wednesday, 3 September, 2014
Southern Cross Club Events Centre, Canberra, ACT
Tickets available on 16 June from the venue (02) 6283 7288 www.cscc.com.au
Friday, 5 September, 2014
Regent Theatre, Ballarat, Vic
Tickets available on June 16 from the venue (03) 5330 5555
Thursday, 18 September, 2014
Wyong Rugby Club, Wyong, NSW
Tickets available on June 16 from the venue (02) 4392 2799 http://wrlc.wyongleagues.com.au/
Saturday, 20 September, 2014
Regional S.E. Queensland outdoor event
Details and announcement date July 31
Sunday, 21 September, 2014
Gold Coast – Twin Towns, NSW
Tickets available on June 16 from the venue 1800 014 014 www.twintowns.com.au
Wednesday, 21 January 2015
EVAN Theatre Penrith Panthers, Penrith, NSW
Tickets available on 16 June from the venue (02) 4720 5555 www.penrith.panthers.com.au
Saturday, 24 January, 2015
Western Australia – outdoor event
Details and announcement date July 1
Sunday, 25 January, 2015
Perth – outdoor event
Details and announcement date August 1
Monday, 26 January, 2105
Adelaide – outdoor event
Details and announcement date July 1
Friday, 30 January, 2015
The Palms at Crown, Melbourne, VIC
Tickets available on June 16 from Ticketek
Saturday, 31 January, 2015
The Palms at Crown, Melbourne, VIC
Tickets available on June 16 from Ticketek
Saturday, 7 February, 2015
Enmore Theatre, Enmore, NSW
Tickets available on June 16 from Ticketek
More shows to be announced in coming weeks
Comments
comments