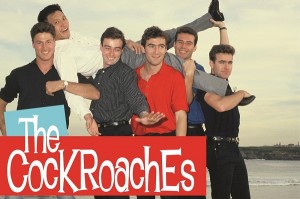 Hey let's go, let's go!
For the first time in over 25 years, The Cockroaches return to Sydney's live circuit to play with their original chart-topping line-up for two very special shows this June; Dee Why RSL on Saturday June 14th and Rooty Hill RSL on Friday June 27th.
'Hey Let's Go!' a collection of The Cockroaches' best-loved hits spanning 1984 – 1994 will be released on Friday June 13 through ABC Music/Universal, with the band's complete back-catalogue to be made available digitally on the same day.
For those that remember the 1980's, The Cockroaches were suburban boys that smashed attendance records with their energetic live shows in the pubs and clubs right around Australia.  In 1988, Sydney's The Daily Telegraph dubbed them "The hardest working band in Australia on account of the number of live shows they performed". Their debut album entered the ARIA Album Chart at Number 2, and Rolling Stone magazine called them "the quintessential meat and mashed potatoes rock band". With 8 Top Forty hits under their belt, including the smash 'She's the One' as well as 'Some Kind of Girl', 'Wait Up' and 'Double Shot of My Baby's Love', The Cockroaches were one of the most prolific local bands of the 80's.
Jeff Fatt, Anthony Field and brothers John and Paul have spent the last 23 years working on a music project called The Wiggles and that seems to have worked out well, so it's time for a return to the stage to celebrate the release of 'Hey Let's Go!' and digital back-catalogue.
"We grew up playing in the pubs and clubs of Australia" said Anthony Field. His brother Paul added, "We were lucky to have had success in the 1980's, we were played on radio, performed on TV shows like Countdown and Hey, Hey It's Saturday and had so much fun." Guitarist and songwriter John Field chips in, "We don't know if we'll ever do this again. Anthony is always away on tour and Jeff just turned 60!". "And I promise I'll stay awake for this one" Jeff adds as The Cockroaches go off to prepare for their upcoming hometown shows.
Don't wait another 25 years to see this band in action; catch The Cockroaches live in Sydney next month! 
Saturday June 14 – Dee Why RSL
Tickets here: https://secure.dyrsl.com.au/Tickets/
Friday June 27 – Rooty Hill RSL
Tickets here: http://rootyhillrsl.com.au/the-cockroaches
Tickets $30 – On-sale NOW
THE COCKROACHES| 'HEY LET'S GO! THE BEST OF THE COCKROACHES' | ALBUM OUT JUNE 13
THE COCKROACHES | FULL BACK CATALOGUE RELEASED DIGITALLY | AVAILABLE JUNE 13
https://www.facebook.com/The.Cockroaches
https://www.facebook.com/The.Field.Brothers
Comments
comments