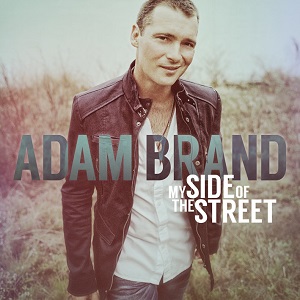 Whatever gives Aussie music its heart, Adam Brand breathes plenty of life into its soul. For more than fifteen years, Brand has been one of the country's best-loved and most successful recording artists. On August 8, 2014, Adam Brand will release his 10th studio album, the soulful 'My Side Of The Street'.
The guitar-heavy, soaring rock-tinged lead single 'What Your Love Looks Like' captures Brand in his element, as he sings "I want to close my eyes, and see what your love looks like", drawing listeners in as a love-fuelled narrative unfolds.
Produced by Adam's long-time collaborator Craig Porteils (Guns n Roses, Billy Idol, Guy Sebastian), 'My Side Of The Street' is a 13-track long-player that features Jasmine Rae on 'Quit This Time' and closes out with 'Most People I Know Think That I'm Crazy', made famous by Billy Thorpe & The Aztecs.
"They say you get your whole life to write and record your first album, in some respect I feel I have been waiting my entire life to release this album", says Adam. "I threw the rule book out the window and said everything I wanted to say, exactly the way I wanted to say it."
Directed by Paul Stefanidis of Viking Lounge Mastering, the video for 'What Your Love Looks Like' is the"culmination of shooting over three days at some iconic Sydney locations", says Adam. "I wanted to capture the passion and fragility of the intense search for true love."

Adam Brand is undeniably a fixture on the local music landscape. The versatile star has three Platinum and five Gold albums to his name, along with 12 Golden Guitars, an ARIA Top 5 album in 2012's 'There Will Be Love', and multiple ARIA Nominations for Best Country Album. He has toured with the likes of Jimmy Barnes, Ian Moss and James Reyne locally, and hit the road with Taylor Swift across the USA.
Adam will take his energetic live show to cities across Australia this September & October on the 'My Side Of The Street' National Tour, hitting the road with full band in tow.
ADAM BRAND – 'MY SIDE OF THE STREET' 2014 TOUR DATES
Tickets on-sale June 10.
Monday June 9 – Fairfield Harness Racing Carnival, Fairfield
Wednesday September 3 – Wellington Entertainment Centre – Sale VIC – All Ages
Tickets: Box Office 0351 433 200 www.ebbwec.com.au
Thursday September 4 – West Gippsland Arts – Warragul VIC – All Ages
Tickets: Box Office 0356 242 456 www.wgac.com.au
Friday September 5 – York on Lilydale – Mt Evelyn VIC
Tickets: Venue 03 9736 4000 or at Ticketmaster www.ticketmaster.com.au
Saturday September 6 – Gateway Hotel – Geelong VIC
Tickets: Venue 0352 751 091 or Ticketmaster www.ticketmaster.com.au
Wednesday September 10 – Westside Performing Arts Centre – Mooroopna VIC – All Ages
Tickets: Box Office 0358 329 511 www.riverlinksvenues.com.au
Thursday September 11 – Hallam Hotel, Hallam VIC – U/18
Tickets: Venue 03 8786 0200 or Ticketmaster www.ticketmaster.com.au
Friday September 12 – Country Cub, Launceston TAS – U/18
Tickets: Tixtas 1300 795 257 or www.tixtas.com.au
Saturday September 13 – Wrestpoint Casino, Hobart TAS
Tickets: Tixtas 1300 795 257 or www.tixtas.com.au
Thursday September 18 – Goulburn Soldiers – Goulburn NSW – U/18
Tickets: Venue 02 4821 3300 or at www.goulburnsoldiers.com.au
Friday September 19 – Dapto Leagues – Dapto NSW – U/18
Tickets: Venue 02 42 611 333 or at www.daptoleagues.com.au
Saturday September 20 – Rooty Hill RSL – Rooty Hill NSW – U/18
Tickets: Venue 02 9625 5500 or www.rootyhillrsl.com.au
Sunday September 21 – The Depot On Beaumont – Newcastle NSW – U/18
Tickets: Venue 02 49 622 114 or www.thedepotonbeaumont.com.au
Wednesday October 1 – Harvey Road Tavern – Gladstone QLD
Tickets: Venue 0352 751 091 or Ticketmaster www.ticketmaster.com.au
Thursday October 2 – Brolga Theatre – Maryborough QLD – All Ages
Tickets: Box Office 07 4122 6060 or www.brolgatheatre.org
Friday October 3 – Kedron Wavell Services Club – Chermside QLD – U/18
Tickets: Venue 07 3359 9122 or www.kedron-wavell.com.au
Saturday October 4 – C.EX Coffs – Coffs Harbour NSW – U/18
Tickets: Venue 02 6652 3888 or www.cex.com.au
Friday October 10 – Hahndorf Old Mill – Hahndorf SA – U/18
Tickets: Venue 08 8388 7888 or www.hahndorfoldmill.com
Saturday October 11 – Wickham Annual Community Day – Wickham WA
Tickets: To Be Advised
Wednesday October 15 – Friends Restaurant – Perth WA – U/18
Tickets: Venue 08 9221 0885 or www.friendsrestaurant.com.au
Thursday October 16 – The Deck – Busselton WA – U/18
Tickets: Venue 08 9751 2960  or www.thedeckmarina.com.au
Friday October 17 – New Centurion Hotel – Midland WA
Tickets: Ticketmaster 136 100 / www.ticketmaster.com.au
Saturday October 18 – Charles Hotel – Perth WA
Tickets: Venue 08 9444 1051 or www.ticketmaster.com.au
Sunday October 19 – Ravenswood Hotel – Ravenswood WA
Tickets: Venue 08 9537 6054 or www.ticketmaster.com.au
Stay tuned…. More dates coming soon
PRE-ORDER 'MY SIDE OF THE STREET' VIA RETAILERS BELOW:
ABC Shops & Centres
JB Hi Fi
Sanity
iTunes
ADAM BRAND | 'WHAT YOUR LOVE LOOKS LIKE' | SINGLE AVAILABLE NOW
ADAM BRAND | 'MY SIDE OF THE STREET' | ALBUM RELEASED AUGUST 8, 2014
www.adambrand.com.au  
https://www.facebook.com/AdamBrandOfficial
https://twitter.com/adambrand
www.abcmusic.com.au
Comments
comments