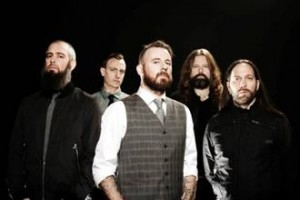 With more than three million copies sold worldwide and ten studio albums to date, Swedish modern metal band In Flames has not only redefined the genre during the past years, but also made their mark far beyond its boundaries. Founded in 1990, they made their breakthrough already with their second album "The Jester Race" while at the same time delivering a genre classic. Tours with Metallica, Slayer, Motörhead and Slipknot, among others, followed, as well as multiple honors including two German Metal Hammer Awards, several Swedish Grammys, and a Metal Hammer Golden Gods Award.
After a gold record for their last studio album "Sounds of a Playground Fading", the successful Scandinavians announce their next coup: the new album "Siren Charms". The tracks were recorded at the legendary Hansa Studios in Berlin, and alongside the first strong release "Rusted Nail" features ten more multifaceted tracks, which will delight old fans as well as offering crossover potential.
"Being a longstanding fan of the band personally, it is a great honor to welcome In Flames to the Sony Music label family. Over the course of many years, the band has built an excellent reputation in the scene, and more than lives up to it with their new album. Musically, they have moved up a gear, and I'm sure that with 'Siren Charms', In Flames can add yet another classic to their discography. The label Epic as well as the whole Sony Music and Black Mob team are looking forward to this special collaboration", says Willy Ehmann, Senior Vice President Music Domestic G/S/A.
"Rusted Nail" is internationally scheduled for June 16.
"Siren Charms" will be released on September 5, 2014 via Sony Music Australia.
IN FLAMES "SIREN CHARMS" – TRACKLISTING
01. In Plain View
02. Everything's Gone
03. Paralyzed
04. Through Oblivion
05. With Eyes Wide Open
06. Siren Charms
07. When the World Explodes
08. Rusted Nail
09. Dead Eyes
10. Monsters in the Ballroom
11. Filtered Truth
Comments
comments