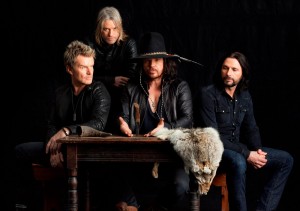 1987 was a great year for music… just putting it out there… and tonight in Sydney we see the return of The Cult, who are here to perfrom their 1987 classic 'Electric' in full as well as some other tracks off their extensive body of work. I did see The Cult a few years back when they toured and I left less than impressed, so I'm hoping tonight sees a much better experience…
As Billy Duffy kicks off 'Wild Flower' with that all but familiar riff and an arm raised they bust into the opener and with Ian Astbury doubling on vocals and tambourine, we are in for a rockin' night. With that we're off and like the album itself there is no pause for applause as the first track fades into the next and 'Peace Dog' takes its place. I'm seeing a theme here as 'Lil Devil' again seamlessly begins and tonight it sounds killer. OK, so the band has in fact come leaps and bounds since the last time I saw them in 2010 and I'm thankful. Duffy is playing better than ever, such a clean sound from a great technical player and Ian Astbury isn't throwing fold back wedges from the front of the stage. 'Bonza' exclaims Astbury as they pause to say hello if not only for a second before continuing on with 'Electric' and up next being 'Aphrodisiac Jacket' once again this one let's Duffy shine and to me, he is the focal point of this band, if not only for his tone, it's outstanding tonight.
'Electric Ocean' stands up with windmills a plenty that get the crowd worked up as does 'Bad Fun' and it's chunky goodness, not to mention the drum solo which got the crowd going but the riffs just keep on coming. 'King Country Man' is tight and on point, but when 'Love Removal Machine' took its deserved place in the set it was time for the crowd roar to become one louder as Billy hits that all but familiar riff it is on like Donkey Kong. The Cult played this song tonight like they meant it which is good after 26 years, and it sounded great. A song that still kicks ass today… Billy Duffy once again shows us how it's done and as the cheers are heard as the song ends it indicates they were impressed too.
Not the Steppenwolf cover but 'Born To be wild' starts to get to the end of the album as 'Outlaw' rocks it up once again you really do realize how good this album is in the stakes of late 80's rock and how it still stands up today. The album closes with 'Memphis Hip Shake' and for a song 26 years old it sounds almost innovative now, let alone when it was released so long ago. And with that ends 'Electric' and what an album and set and makes me realise I need to listen to the album more.
Now… What have we got in store for the rest of the set?!?!
Taking a break with a remix from their newest album 'Choice of Weapon' they return with the second half of the set and it's time to rock yet again…
'Rain' rocks the fuck out, as does 'Honey From a Knife' and Astburys displeasure for young people was somewhat hilarious but the groove that they hit with 'Sweet Soul Sister' was needed and adored, and what a song that is and in terms of The Cult back catalogue this is one that stands out. 'Lucifer' rocked out and it's just so easy to stand here and listen to the set and not even notice just how good the band is. These guys are on fire (woman) tonight… see what I did there?
Dedicating 'Embers' to Michael Hutchence which was killer, and what a groove this one hits!! They just keep on going and I don't want it to stop… Riff rock riff oh thank god finally! 'She Sells Sanctuary' and oh boy didn't this one raise the roof, I think many were waiting for the 'hits' and here they got one. Off stage and back for an encore and 'Nirvana' followed by 'Spiritwalker' and closing tonight with 'Sun King' and its musical assault and a great way to finish the night. Although there was no 'Fire Woman' or 'Wild Hearted Son' tonight, The Cult delivered. Did we simply get Ian Astbury in a good mood? Maybe, but a killer set and a killer show tonight. Maybe next time we can get a bit of 'Sonic Temple' what do you think?
Essential Information
Venue: Hordern Pavilion – Sydney
Date: October 4, 2013
Website: www.thecult.us
Set list:
Wild Flower
Peace Dog
Lil' Devil
Aphrodisiac Jacket
Electric Ocean
Bad Fun
King Country Man
Love Removal Machine
Born To Be Wild
Outlaw
Memphis Hip Shake
Rain
Honey from a Knife
Sweet Soul Sister
Lucifer
Embers
The Phoenix
Rise
She Sells Sanctuary
Nirvana
Spiritwalker
Sun King
Comments
comments