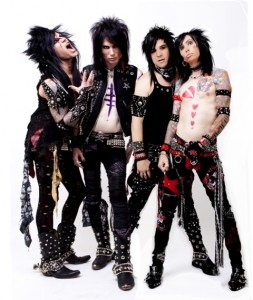 August 28th, 2013  – Birmingham, AL rock band Lynam, will release it's new EP entitled "Halfway To Hell" October 15th via New Ocean Media.  The band has made the song 'Wrong Side Of The Grave' available for streaming via SoundCloud below and a free download via their Facebook page.
"Halfway To Hell" was produced by the band and longtime producer Jason Elgin (Collective Soul, Maylene And The Sons Of Disaster, Terrible Things). The song 'Wrong Side Of The Grave' was produced and co-written with Bruno Agra.
Lynam consists of Jacob Bunton (lead vocals, guitar), David Lynam (drums, vocals), Cody Elliott (Bass, Vocals), and Lonny Paul (guitar, vocals).
In 2006, Lynam signed a deal with DRT/Universal Records and released the critically acclaimed album "Slave To The Machine". This album peaked at #21 on Billboard's Top Independent Albums chart and #19 on the Heat- seekers chart. The first single 'Tanis' went to #1 on both the active rock independent and main-stream rock independent charts. The band's 2008 album "Tragic City Symphony" was released on Megaforce / Mascot Records and featured the radio singles 'Save My Soul', 'Lindsay Says', and 'Porn Star'. All three singles reached the top 10 on the active rock independent chart with 'Save My Soul' reaching top 5 with over 10 million in audience. Several of the album's songs were also used in motion pictures, MTV, VH1, HBO, and video games. A Live album entitled "Thank You Goodnight!" was released November 2010 through Island Def Jam/New Ocean Media. Shortly after the release of "Thank You Goodnight!", frontman Jacob Bunton joined up with former Guns N Roses Drummer Steven Adler to form the band Adler and bassist Mark Dzier left to film the movie Rock Of Ages as part of the fictitious band Arsenal led by Tom Cruise
For more  information, check out the band's website:
www.lynammusic.com
Lynam Facebook:
www.facebook.com/lynammusic
Lynam Twitter:
www.twitter.com/lynammusic
Comments
comments