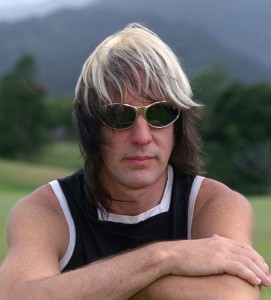 Lennard Promotions present a musical evening spanning four decades of hits with legendary musician, songwriter, producer and musical visionary Todd Rundgren.
A Wizard, A True Star. The title of Todd Rundgren's 1973 solo album aptly sums up the contributions of this multi-faceted artist to state-of-the-art music. As a songwriter, video pioneer, producer, recording artist, computer software developer, conceptualist, and, most recently, interactive artist, Rundgren has made a lasting impact on both the form and content of popular music. This July Todd and his amazing band which includes keyboard master John Ferenzik (Jefferson Starship, Todd Rundgren), guitarist and former Guitar Player Magazine editor Jesse Gress, drummer Prarie Prince (The New Cars, The Tubes, Jefferson Starship) and on bass Kasim Sultan (Blue Oyster Cult, The New Cars, Utopia), will bring to life 40 years of amazing music to Australian audiences.
Born and raised in Philadelphia, Rundgren began playing guitar as a teenager, going on to found and front The Nazz, the quintessential `60's cult group. In 1969, he left the band to pursue a solo career, recording his debut offering, the legendary Runt. But it was 1972's seminal Something/Anything?, on which he played all the instruments, sang all the vocal parts, and acted as his own producer, that catapulted Todd into the superstar limelight, prompting the press to unanimously dub him 'Rock's New Wunderkind'. It was followed by such landmark LPs as The Hermit of Mink Hollow and the above mentioned A Wizard, A True Star, as well as such hit singles as I Saw The Light, Hello It's Me, Can We Still Be Friends, and Bang The Drum.
In 1974, Todd formed Utopia, an entirely new approach to the concept of interactive musicianship, and embarked on an extensive round of touring and recording. Standout Utopia offerings included Oops! Wrong Planet, Adventures in Utopia, and Oblivion. Along the way, Utopia combined technical virtuosity and creative passion to create music that, for millions, defined the term "progressive rock."
Rundgren's myriad production projects include albums by Patti Smith, Cheap Trick, Psychedelic Furs, Meatloaf, XTC, Grand Funk Railroad, and Hall And Oates. Rounding out his reputation as rock's Renaissance Man, Rundgren composed all the music and lyrics for Joe Papp's 1989 Off-Broadway production of Joe Orton's Up Against It  (the screenplay commisioned by The Beatles for what was meant to have been their third motion picture).
Early last year Rundgren performed his iconic 1973 album A Wizard A True Star in concert in its entireity for the first time ever, and recently did the same with a double bill: Todd & Healing. His latest two studio albums Todd Rundgren's Johnson, a collection of classic Robert Johnson songs, and reProduction, covers of songs Todd has produced for other artists. This summer he toured with Ringo Starr (for the third time).
Todd Rundgren will release his new studio album State on the Esoteric Antenna label via Cherry Red in May, 2013.State is Rundgren's 24th solo studio album (and that's not including the two albums he recorded with his first band The Nazz, and the nine albums he recorded with his band Utopia). Todd's latest musical vision is a fusion of rock, soul, r'n'b and electronica that is at once danceable, groundbreaking, spiritual, challenging and infectious.
Lennard Promotions Present – An Evening With Todd Rundgren
Tickets on sale 12th of April 2013
17TH. JULY THE GOV, ADELAIDE
Tickets via Moshtix on 1300 438849 or venue box office 8340 0744
19TH. JULY CHELSEA HEIGHTS HOTEL, CHELSEA HEIGHTS
Tickets via Tcketmaster on 136100 or venue box office on 9773 4453
20TH. JULY FERNTREE GULLY HOTEL, FERNTREE GULLY
Tickets via Ticketmaster on 136 100 or venue box office on 9758 6544
21ST. JULY CORNER HOTEL, MELBOURNE
Tickets via venue box office on 9427 9198
23RD. JULY LIZOTTES, NEWCASTLE
Tickets via venue box office on 4956 2066
25TH. JULY BRIDGE HOTEL, BALMAIN
Tickets via moshtix on 1300 438 849 or venue box office on 9810 1260
26TH. JULY WHITLAM THEATRE, REVESBY WORKERS, SYDNEY
Tickets via venue box offcie on 9772 2100 or via www.rwc.org.au
27TH. JULY TWIN TOWNS SERVICES CLUB, TWEED HEADS.
Tickets via venue box office on 1800 014 014
For tour information visit:
www.lennardpromotions.com.au  & www.facebook.com/lennardpromotions
Comments
comments