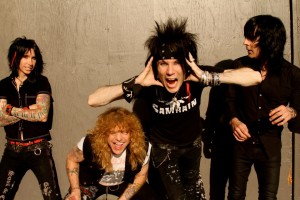 April 2nd, 2013 – ADLER the new band led by former Guns N Roses drummer Steven Adler announced today the European dates for their BACK FROM THE DEAD TOUR. The first European show kicks off September 20th at Underground in Koln, Germany.
ADLER is currently finalizing the South American leg of the "Back From The Dead Tour" which is slated to start in mid- August. Dates and venues TBA.
ADLER'S debut album "Back From The Dead" was released November 26th via New Ocean Media. Recorded in Los Angeles with producer Jeff Pilson (FOREIGNER, DOKKEN) and mixed by Jay Ruston (ANTHRAX, STONE SOUR), the CD consists of 11 tracks, ranging from adrenaline-pumping rockers ("Back From The Dead", "Own Worst Enemy", "Another Version Of The Truth") to arena-rock anthems ("Good To Be Bad", "Blown Away") to powerful, heartfelt ballads ("Waterfall", "Just Don't Ask"). The album features guest appearances by Adler's former GUNS N' ROSESbandmate Slash and ROB ZOMBIE/ex-MARILYN MANSON guitarist John 5.
ADLER is comprised of Steven Adler, frontman Jacob Bunton (LYNAM, MARS ELECTRIC), guitarist Lonny Paul (ADLER'S APPETITE), and bassist Johnny Martin (CHELSEA SMILES).
"The process of making this record was incredible," states Bunton. "Our musical influences are all over the place and this record is a perfect reflection of everything that we love about rock 'n' roll."
"I'm so proud of this record," adds Steven Adler. "This is the record I've been wanting to make for over 20 years and now I've finally found the band with the perfect chemistry to make it happen!"
ADLER "Back From The Dead" 2013 Tour Dates:
20th of Sept: Underground – Koln, Germany
21st of Sept: Forum / Vaureal , France
23rd of Sept: The Railway / Ipswich , UK
24th of Sept: Waterfront / Norwich , UK
25th of Sept: Robin 2 / Bilston , UK
26th of Sept: NQ Live / Manchester , UK
27th of Sept: The Diamond / Sutton in Ashfield , UK
28th of Sept : O2 Academy Islington / London , UK
2nd of Oct : Melkweg / Amsterdam, Holland
3rd of Oct : Effenaar / Eindoven , Holland
4th of Oct : Atelier des Moles / Montbéliard , France
5th of Oct : Rock N' Roll Arena , Novara , Italy
8th of Oct : The Gaswerk, Winterthur ,Switzerland
9th of Oct : Razzmatazz 3 / Barcelona / Spain
10th of Oct :Cafe Antxokia / Bilbao / Spain
11th of Oct : Rock City / Valencia / Spain
12th of Oct : Sala cats / Madrid / Spain
13th of Oct : Sala Berlin / Ourense / Spain
Comments
comments